Welcome to Artful Weekend, our guide to fun and interesting ways to enjoy art in person or virtually.
This weekend: Two photography exhibits and a member show at the League; Members' Mashup at Pyramid Atlantic; Art in Bloom at Martha Spak; and American Sunset at Hemphill Artworks.
March Open Exhibit
Open Exhibits at The Art League present an array of works in a variety of mediums created by our member artists. March's Open Exhibit features 97 artworks, and was juried by Gage Branda, artist, educator and Development & Curatorial Coordinator at the American Visionary Art Museum.
Jennifer Allevato received the Best-in-Show Award for her painting Cornflower Blue Lines and Flowers. Says the artist:
"These are not flowers, they are paintings of flowers: pieces created 100% by my hands. The movements, the lines, the brushstrokes, the drips: all indications that a person was here. These eye-popping, imperfect borders are just another reminder of the act of creating. Perfectly imperfect."
Allevato presented Seated, an exhibition consisting of colorful, mixed media paintings of interior spaces with unoccupied chairs, as our May 2021 Solo Artist. Here she talks about it.. 
The March Open Exhibit is on view through April 3.
Women Around the World
During Women's History Month we are excited to present Women Around the World, a photography exhibition by Solo Artist Kathryn Mohman. As a globetrotting photographer, Mohrman is fascinated by people with one foot in their traditional culture and the other in the modern world. For her exhibit Women From Around the World she trains her lens on women living that type of duality.
"The photographs reveal women from around the world: working, celebrating, enjoying their children, looking curiously at the photographer," says the Mohrman. "These images celebrate the many ways in which women around the world pursue the same goals in life that you and I do." Women around the World is on view through April 3.
Special Exhibit: The Photographic Process
The Photographic Process is a special exhibit that highlights the wide scope of photographic techniques and the unique approaches that photographers use to create their work, from hand developed negatives to digital photography, tintypes, cyanotypes, and more. This exhibit was juried by Em White, a visual artist and documentarian, specializing in historic photographic processes and large format work. It is on view through April 3.
Members' Mashup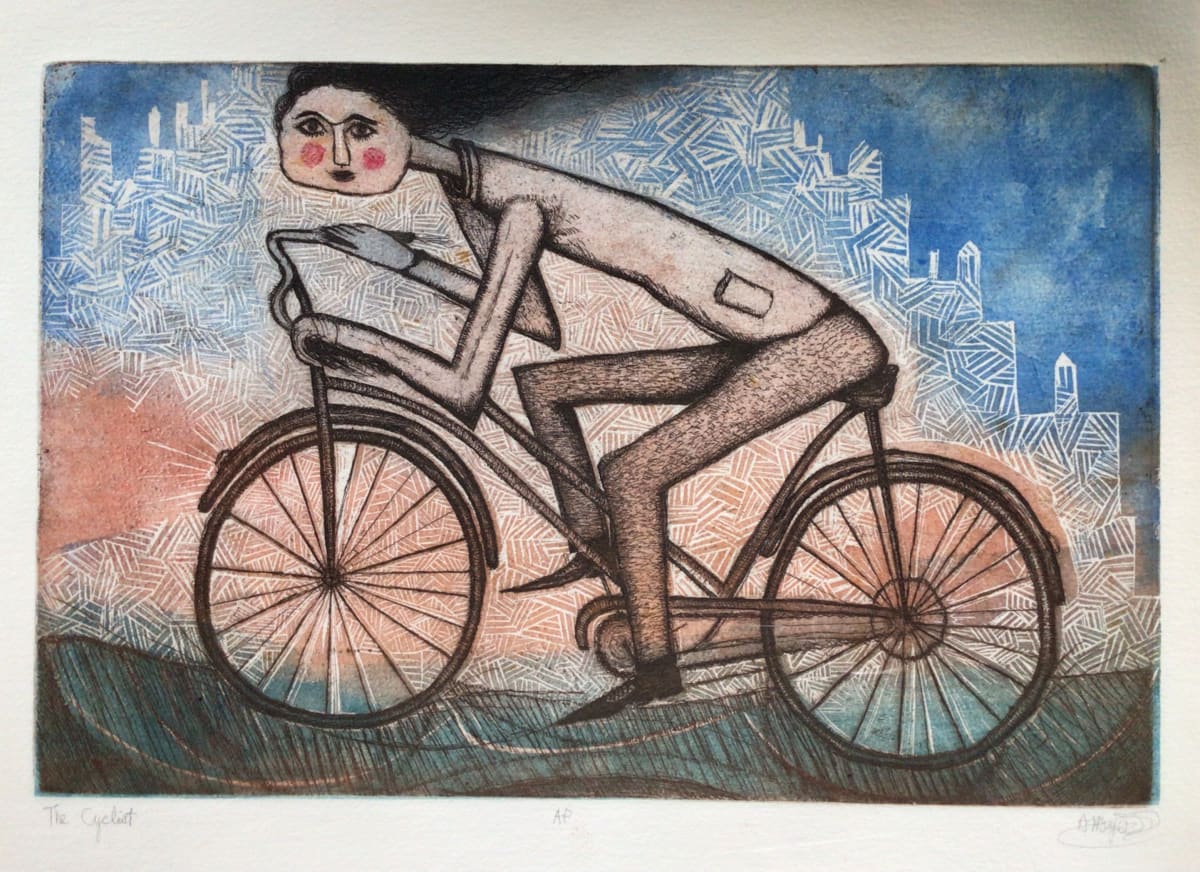 For Members' Mashup, members of Pyramid Atlantic Art Center exhibit works of their choice in this exciting annual exhibition, creating a mashup of styles, mediums, and price points that are hung riotously throughout the gallery. This is the third iteration of Pyramid's uncurated members' exhibition and the largest one yet. Modest prizes and bragging rights will be awarded, including a juror's award by Mary Early, Director of Hemphill Artworks in Washington DC, and a "People's Choice Award" where visitors can vote on their favorite piece in the show. The exhibit is on view through April 17, 4318 Gallatin Street, Hyattsville, MD. You can also view it online here.
Art in Bloom
Art in Bloom, at Martha Spak Gallery at The Wharf in D.C., celebrates the awakening of spring. This themed show includes a variety of art styles, mediums and subjects by forty artists that can be viewed in-person or online. It is on view through April 24; 60 District Square, S.W.
Rush Baker IV: American Sunset
American Sunset is politically charged. Reflecting upon the cause and effect of abolitionist John Brown's 1859 raid on Harper's Ferry which accelerated the nation into civil war, Baker has created a cycle of paintings conjured from a process where representation generates abstraction. Large and colorful, both beautiful and terrifying, his paintings possess the currents of emotional energy felt within the present-day fight for social justice.  American Sunset is on view through April 30 at Hemphill Artworks, 434 K Street, NW.
Enjoy the weekend and happy Spring!