Welcome to Artful Weekend
-our listing of area art exhibits and events-
This weekend: Patrons' Show 2023 Exhibit at the League; The Unseen at Del Ray Artisans; Exaggerated Gestures at DWIGHT MESS Cartooning & Comic Arts Compound; and Honoring the Black in US at Zenith Gallery.
Patrons' Show 2023 Exhibit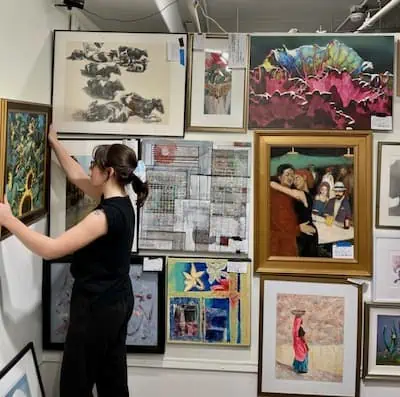 Patrons' Show, the Art League's biggest fundraiser, is back! This much-anticipated event, now in its 55th year, allows ticket holders to acquire high-quality, original fine art—valued from $235 to upwards of thousands of dollars—while supporting a great non-profit organization and community of artists. 
The Patrons' Show Exhibit, featuring over 600 original fine artworks donated by Art League and Torpedo Factory artists, opens Friday, February 3 and will be on view through Saturday, February 19. During this two-week period, ticket holders can browse  artworks and note their favorites in preparation for the Patron's Show Fundraiser on Sunday, February 19, from 6 – 10 pm. On that night, our emcee announces the name of every ticket holder in a random drawing. Each person called chooses their favorite work of art from the Show to take home! In addition to the artwork, ticket holders may win other valuable prizes donated by local businesses. 
Anyone can see the bevy of paintings, sculptures, ceramics, photographs, printworks, and more on the League's Patrons' Show 2023 album on Flickr; and download the handy Art Thief app to pick and organize their favorites on an iPhone, iPad, or iTouch (but grab a ticket if you want to claim artwork!).
The Unseen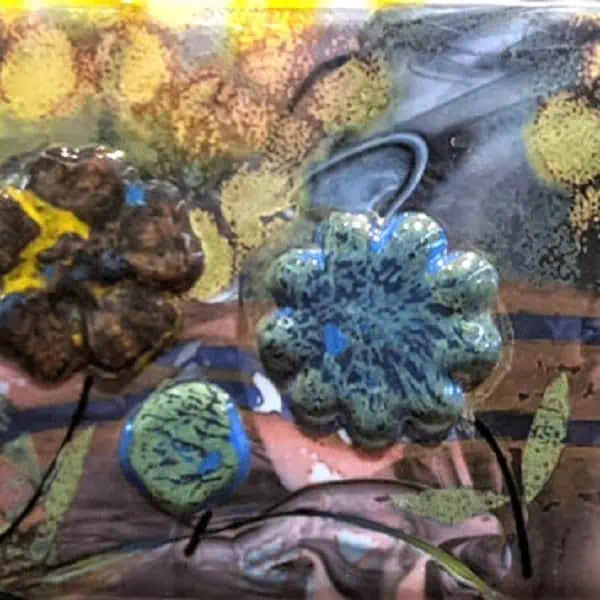 Come explore the hidden, under the surface, microscopic, imagined, or dreamt that make life so much richer. In The Unseen, at Del Ray Artisans, local artists take us to myriad places—in their minds, their dreams, their dives, their experiments, their hopes, and their fears.  It is on view through February 25. Join Del Ray Artisans for the opening reception Friday, February 3; Colasanto Center, 2704 Mount Vernon Avenue, Alexandria, VA.
Exaggerated Gestures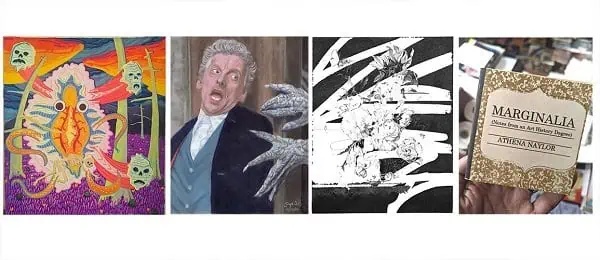 Exaggerated Gestures, at the new DWIGHT MESS Cartooning & Comic Arts Compound gallery, is a group show of drawing, painting and sculpture by artistic friends to comics, cartooning and geekdom. Featured works include pastel drawings by comics inker Joe Silver, graphite drawings and sculpture by Marissa Long, and gouache paintings by Bonner Sale. In addition, original comic art, watercolor paintings, and small press publications by cartoonist and illustrator Athena Naylor will be available. Exaggerated Gestures is on view through February 27, with an opening reception Friday, February 3 from 7 – 9 pm; 805 Silver Spring Ave. [entrance on Ripley St.], Silver Spring, MD.
Honoring the Black in US
For Black History Month Zenith Gallery presents Honoring the Black in US, a group exhibit featuring 18 area artists including Art League members Chris Malone and Sabiyha Prince. It is on view through March 4. Meet the artists during two opening receptions: Friday, February 3 from 4 – 8 pm, and Saturday, February 4 from 2 – 6 pm. Zenith Gallery is located at 1429 Iris Street, NW, Washington D.C.
Enjoy the weekend!