Welcome to Artful Weekend
-our listing of area art exhibits and events-
This weekend: Heart's Desire at the League; Stevens Jay Carter: Modern Master at Honfleur Gallery; Ruri Yi at Hemphill Artworks;  and Texture as Subliminal Experience by Hunt Prothro at Waverly Street Gallery.
Heart's Desire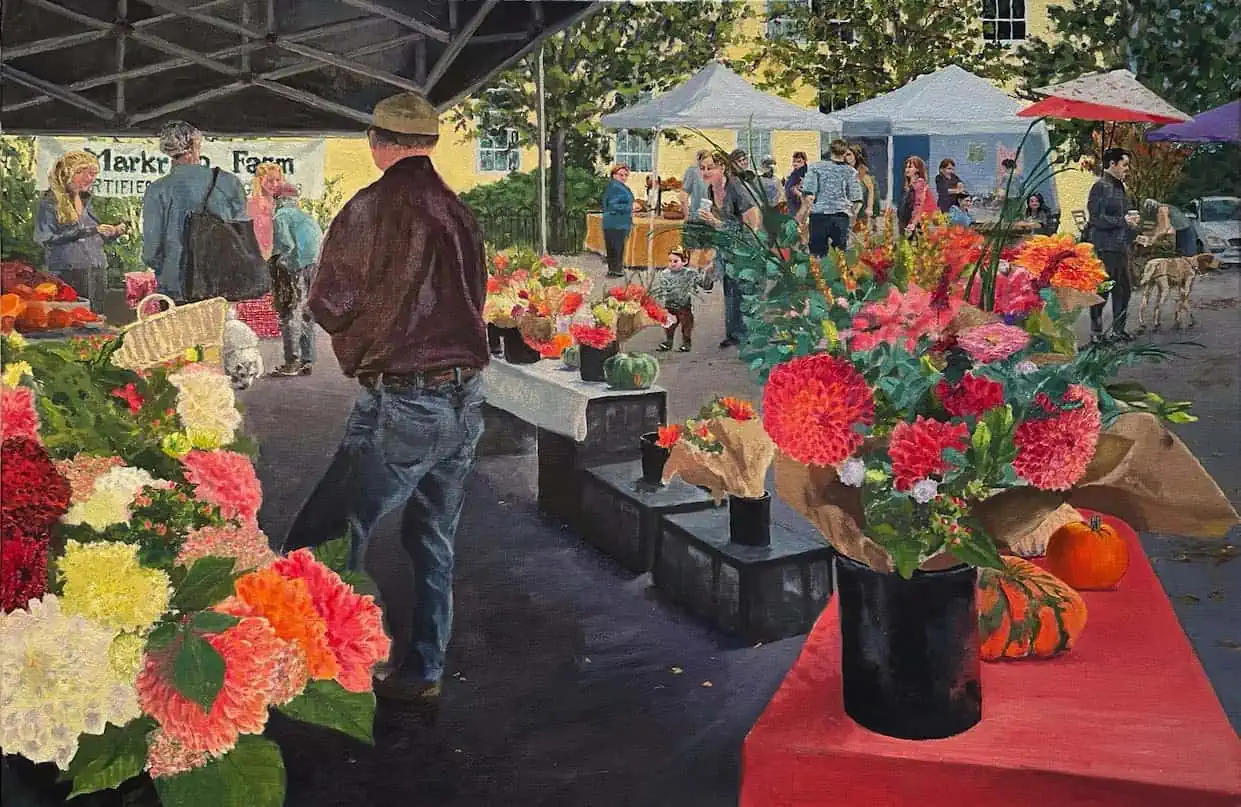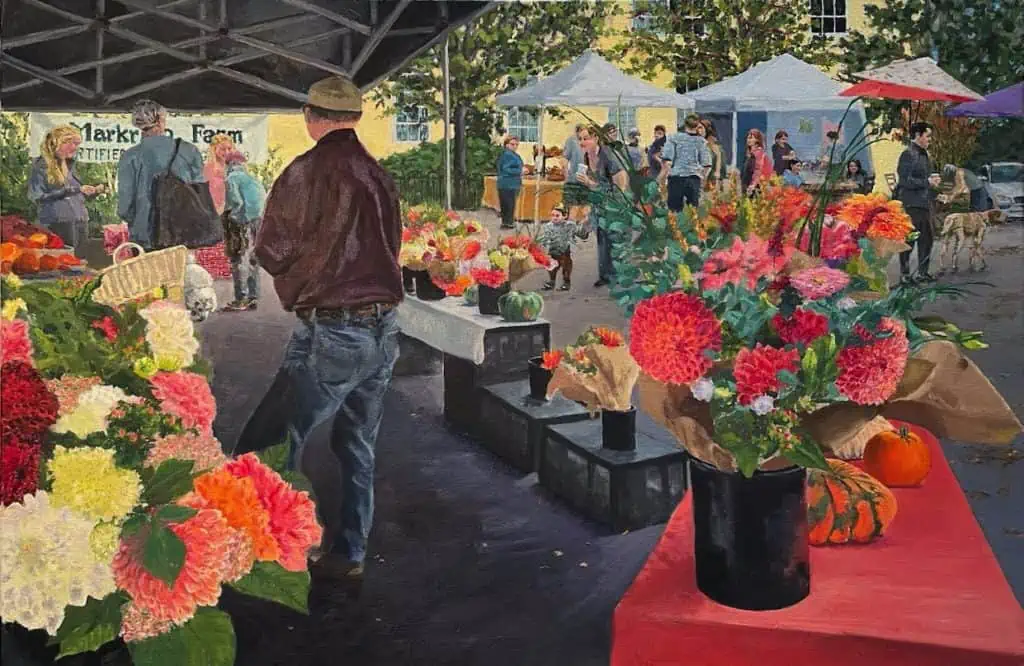 Merriam-Webster defines heart's desire as "something someone wants very much". In Heart's Desire, our first member exhibit of 2023, longing is interpreted in myriad ways. From the romantic and pleasurable to the philosophical and political, Heart's Desire features 151 artworks in oil, acrylic, watercolor, ceramic, photography, printmaking and more. It was juried by Allyson Vieira, a sculptor and Assistant Professor of Foundations at the Corcoran School of Art at the George Washington University in Washington, D.C. 
This months Best-in-Show Award winner:
Picking out the perfect flower arrangement in late summer. By Tish Tyson; Oil
Honorable mentions:
The Cocktail Party by Linda Bankerd; Acrylic
Miss Statement by Andrea Barrett; Mixed media
Glimmer by Amber DeCicco; Mixed media
Lots of Pez by Barry Dunn; Photography
Waiting by Timothy Felker; Oil
At the Salon by Sharon Frey; Acrylic
Bridal Shop by Willa Friedman; Photography, archival inkjet print
Let the Vacation Begin! By Angela Lacy; Watercolor
Romantic Memory by Liz Santulli; Collage on wood panel
Intimate Escape (with apologies to Eadweard Muybridge) by Elizabeth Matthews; Oil triptych on canvas
La Dolce Vita by Monzen Tzen; Palette knife, oil stick, and oil on canvas
Heart's Desire is on view through January 29.
Stevens Jay Carter: Modern Master
Stevens Jay Carter was a dynamic, prolific, and artistically diverse abstract artist who employed a range of mediums—from painting and sculpture to clothing and decor—to articulate his many visions. In recent years, his work addressed the coronavirus pandemic and other critical social issues. Stevens Jay Carter: Modern Master, on view through February 18 at Honfleur Gallery, features pieces that explore the essence of America in its many forms. Stevens' themes are socially relevant and hopeful. There will be an opening reception Saturday, January 14, from 5 – 8 pm. Honfleur Gallery is located at 1241 Good Hope Road, SE, Washington, D.C.
Ruri Yi
HEMPHILL Artworks presents an exhibition of works by Baltimore-based painter Ruri Yi. Inspired by daily life, urban space, and the natural landscape, Yi's Eq. or Equilibrium Series explores the function of a single defined shape, deployed by the artist in marching arrangements where a grid of like forms is punctuated by contrasting colors. Her exhibit is on view through February 25. There is an opening reception on Saturday, January 14, from 6 – 8 pm. Hemphill Artworks is located at 434 K Street NW, Washington, D.C.
Texture as Subliminal Experience by Hunt Prothro
Waverly Street Gallery presents Texture as Subliminal Experience by noted ceramicist and writer Hunt Prothro. It is on view through February 4. Waverly Street Gallery is located at 4600 East-West Highway, Suite 102, Bethesda, Maryland. 
Enjoy the long weekend!