Dana Self's love of the arts has led her to careers where she promotes them in some form or fashion. Currently, she directs marketing at the esteemed University of Missouri-Kansas City Conservatory. Before that she spent over a decade as a contemporary art museum curator at the Kemper Museum in Kansas City, Missouri, where she resides, as well as museums in Wisconsin, Kansas, and Tennessee.
During her stint as a curator she organized about 100 exhibitions of emerging and mid-career artists. "Just working with art, and finding out what artists are thinking and talking about, whether it's commentary on a general zeitgeist or a commentary on something internal that they are struggling with, is my passion," Self says. Writing about art is another passion. She's been a critic for the weekly alternative newspaper The Pitch, a reviewer for The Kansas City Star, and now covers art for KC Studio magazine.
Self says when she received artwork for the April Open Exhibit, "I thought, 'Wow! There are a lot of submissions.' There was good work in all media, so it was hard to narrow down." In addition to Journey of Life, her best-in-show pick by painter Teresa Oaxaca, she selected ten works for honorable mentions. She spoke with blog editor Julia Chance about curating, writing, art in the time of corona, and what delighted her about April's show.
The Art League: You were a museum curator for a number of years. What did you enjoy about it?
DS: I was a museum curator for about 15 years in contemporary institutions for the most part. I just love the process of working with living artists—getting to sit and talk to them and organize an exhibition of their work, then interpreting that work for the museum audience.
TAL: And now you write about art. What's that like?
Dana Self: I love to think about what artists are trying to communicate and how whatever media they're using and whatever message that they are trying to convey resonates with me and the greater culture.
TAL: Is there a particular art topic that you consider your specialty?
DS: What interests me most are artists who deal with, identity—their own identity, cultural identity, any kind of identity. How that is understood, how it's interpreted, how people interpret an artist's own self-identity has always fascinated me.
TAL: It is still early, but are you noticing any emerging art trends during this period of social distancing?
DS: I have noticed more positive imagery on a couple blogs that I follow. I don't know if I can identify that as a trend. Maybe that's just the people I pay attention to.
TAL: Do you think that this period will change or affect how we engage with art?
DS: I don't know. I worry about lots of things with regard to the economy, but if we're solely talking about art, I certainly worry about how any kind of arts institution is going to be able to go forward unless they're an arts institution with a giant endowment, but we're not talking about those. We're talking about smaller museums, smaller galleries, smaller nonprofit arts spaces. How are they going to survive this economic problem created by this virus and how are the artists going to carry on? The main goal is to survive economically and physically, and then [figure out] how you move forward. I don't know if everything will be different. I can't help but think it will be, but how it's going to be different is a big question.
TAL: What did you think about the artwork submitted for the April Open Exhibit?
DS: My general impression was that people were doing really good work. There was a lot of really passionate landscape that I enjoyed. I was really blown away by people's watercolor skills. Watercolor is not easy. There was a lot of good in all media. Overall, the quality was quite high and that made me happy.
My process was just going through all of [the submissions] many, many, many times and thinking about media.  I wanted to make sure that I was inclusive of three dimensional objects and try to get a good representation of all the various media because nobody wants to come in and see all [of one kind of medium]. You want a really holistic, well-rounded representation across the field.
TAL: What should artists be mindful of when submitting their work for exhibition?
DS: The main thing is make sure that you have excellent photography. You don't have to hire a professional photographer because most people can't afford that. But make sure you have taken excellent photos of your work, that you've cropped them nicely, that the lighting is good, the colors are as true as they can be, and images are crisp and not blurry at all. Be very careful about how you submit your images because people like me are just looking at photos on our screens and if they're not good then that makes a difference.
Aside from that, keep working at your craft and keep the faith. It sounds cliché, but it is important for everybody to keep working at what they love and submitting their work to shows everywhere that they can.
Best-in-Show Award winner Journey of Life by Teresa Oaxaca
"This painting is very unusual and has a level of wild imagination that really struck me. She packed so much in to it, so much imagery that didn't seem to be there just randomly. It is very deliberate. I like what she has said about her painting. I thought, wow, there's something extra going on here, and that's what made it extra special for me."
Honorable Mentions:
Tidal Reflections by Kathleen Best Gillman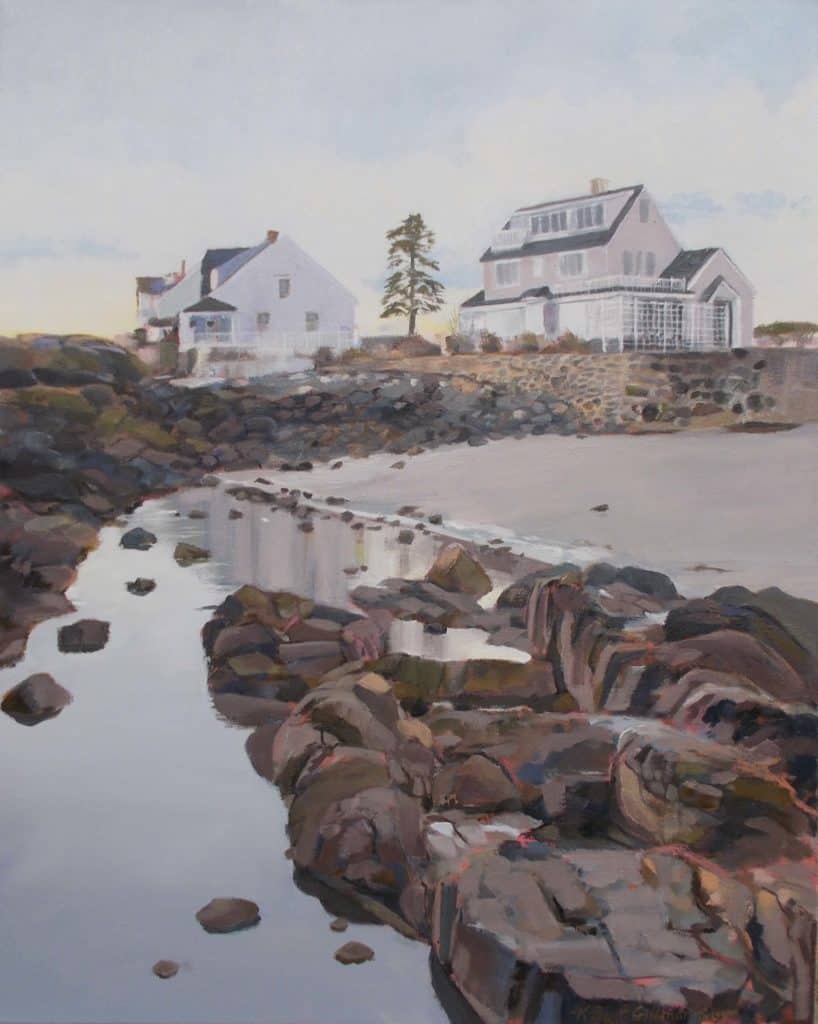 "I love the perspective. I thought the color was really good and I thought it was really well executed. It has an emotional moodiness that I responded to."
Gazelle by Stephanie Chang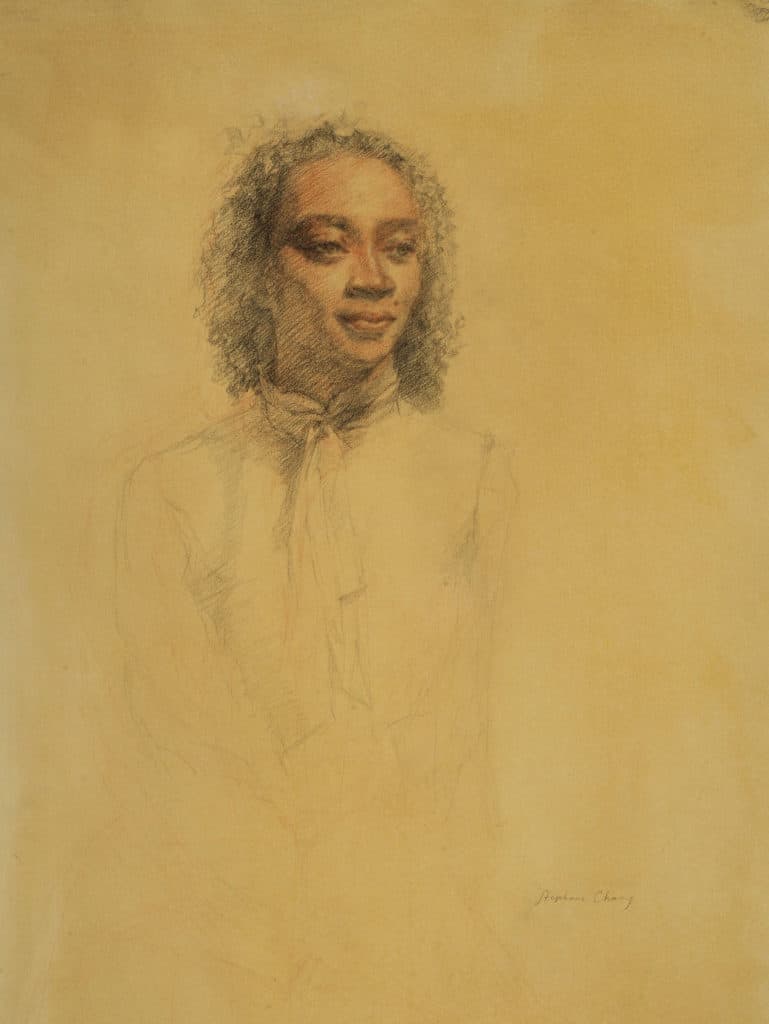 "I have always loved drawing, and you don't see a lot of just straight up drawing. This is really sophisticated and beautiful, and I loved the way she did the face and how the rest of the body just sort of faded away but it's still there."
Round-About by Octavia Frazier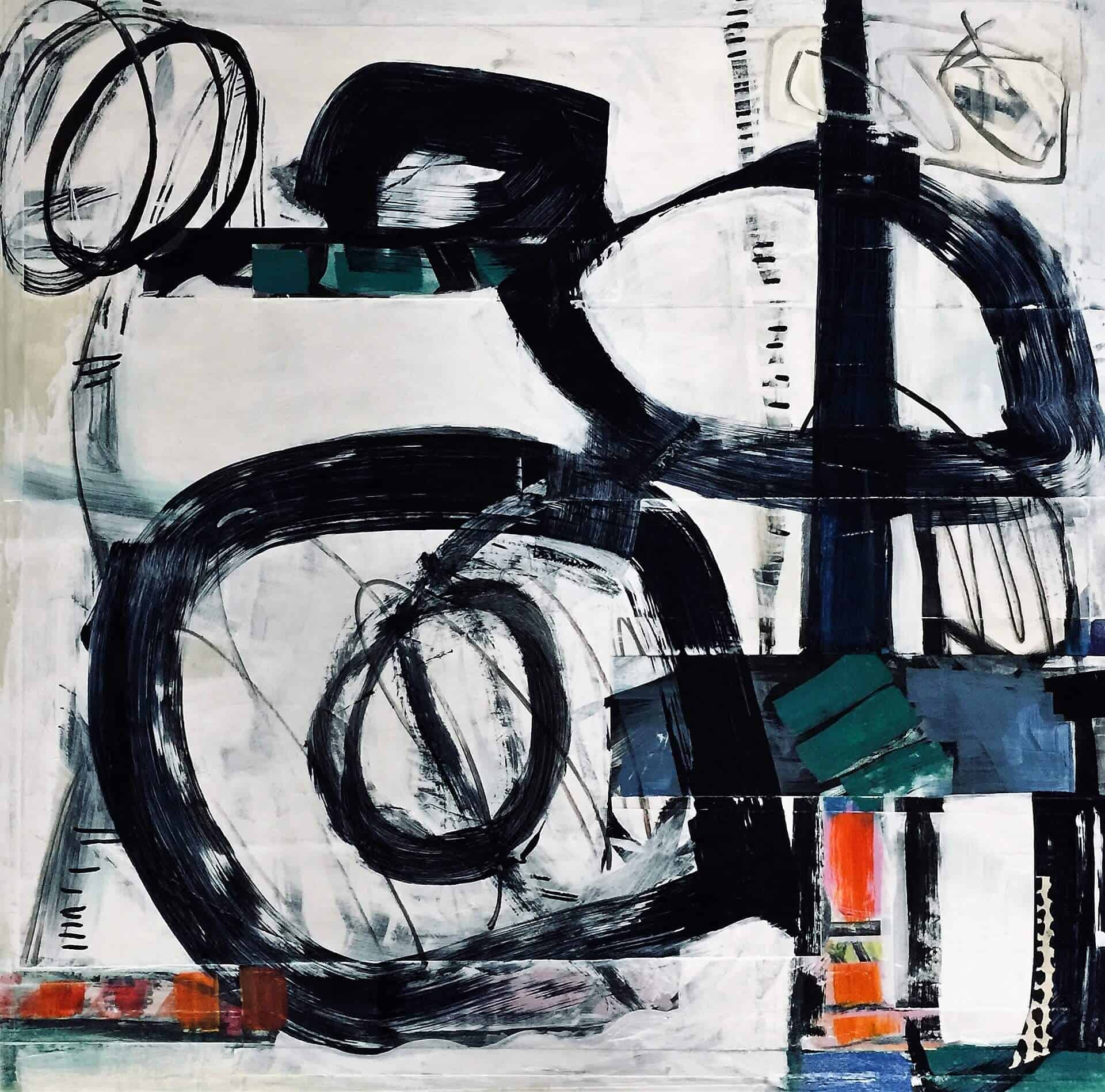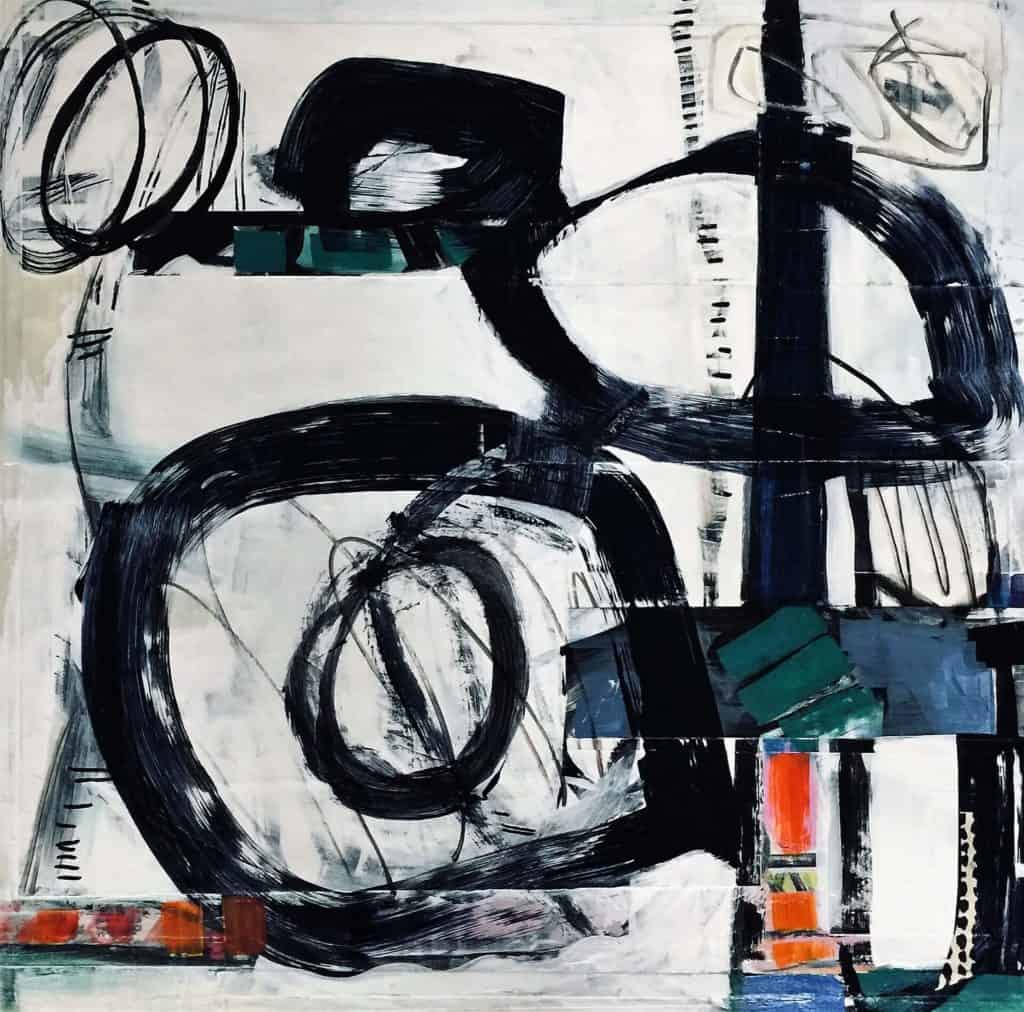 "I love the dynamic quality of this painting. It's very strong. The composition is really exciting to me, and I like the color palette too."
Blue Corner by Janet Hakeen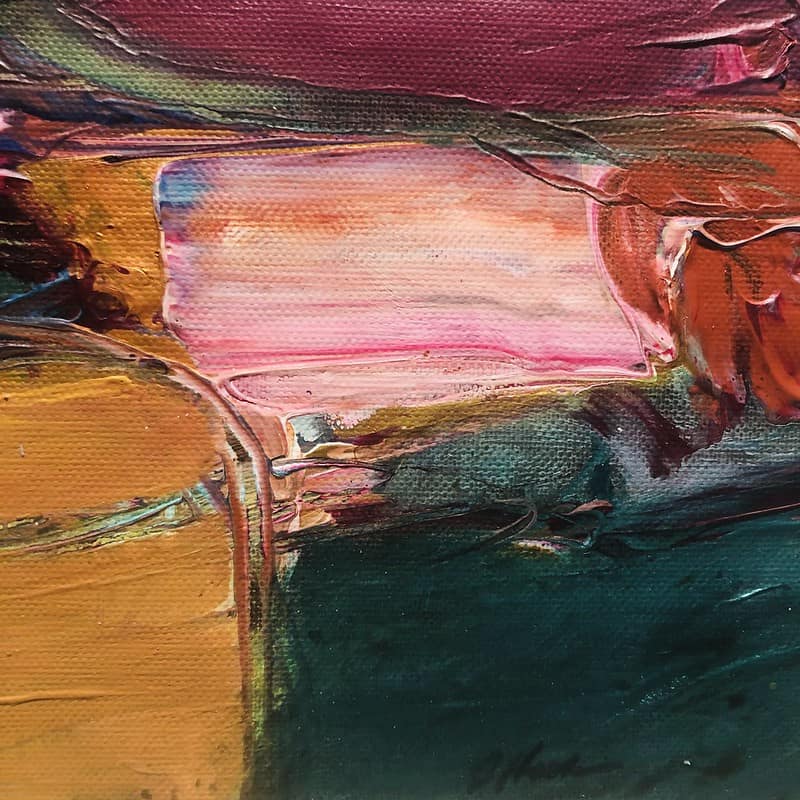 "This also has a very strong composition. I love the snappy little size, a giant abstraction on a small scale. It's only 12″ by 12." That's what attracted me to it, and that little blue corner. That was clever."
Ghost Ship by Dave Mann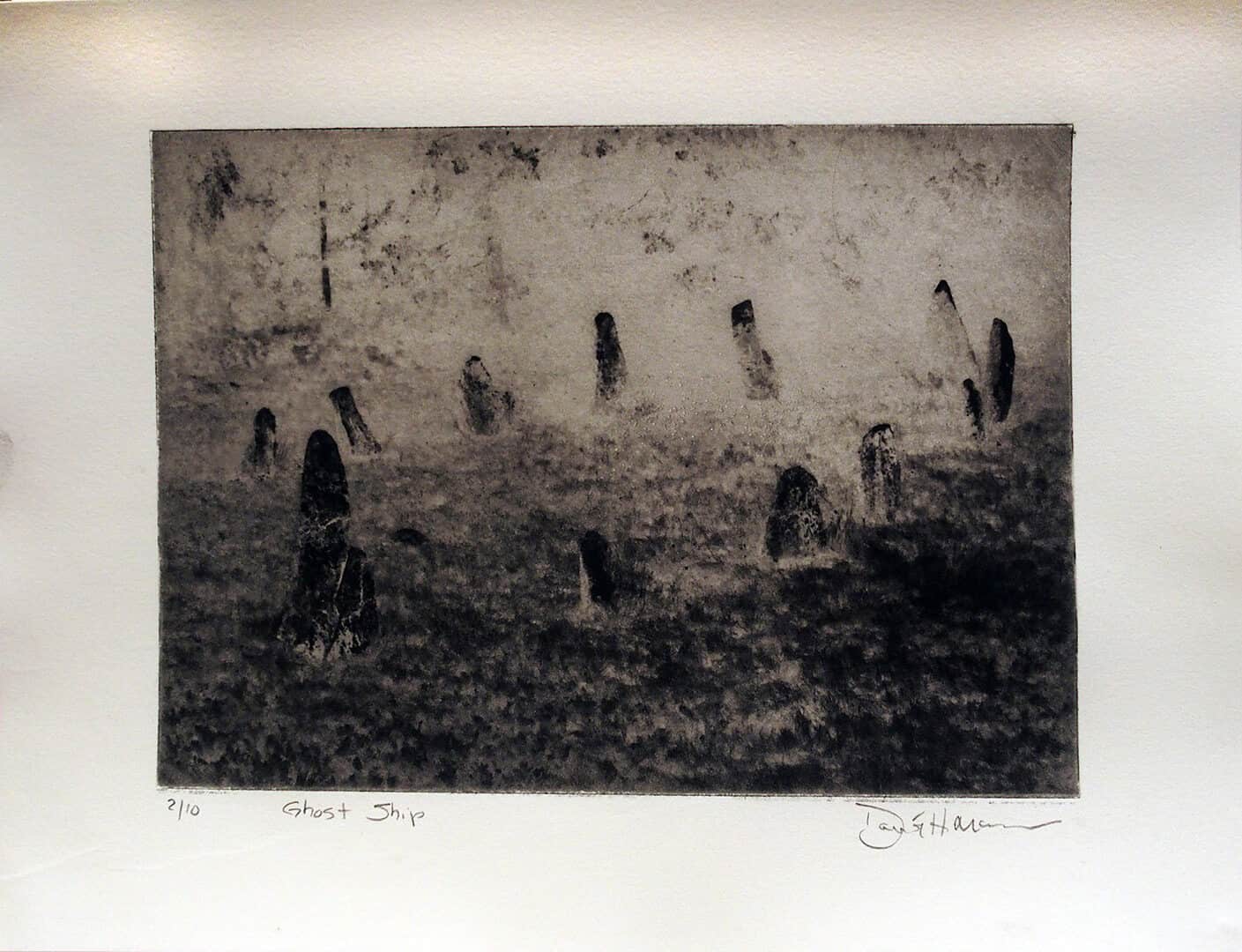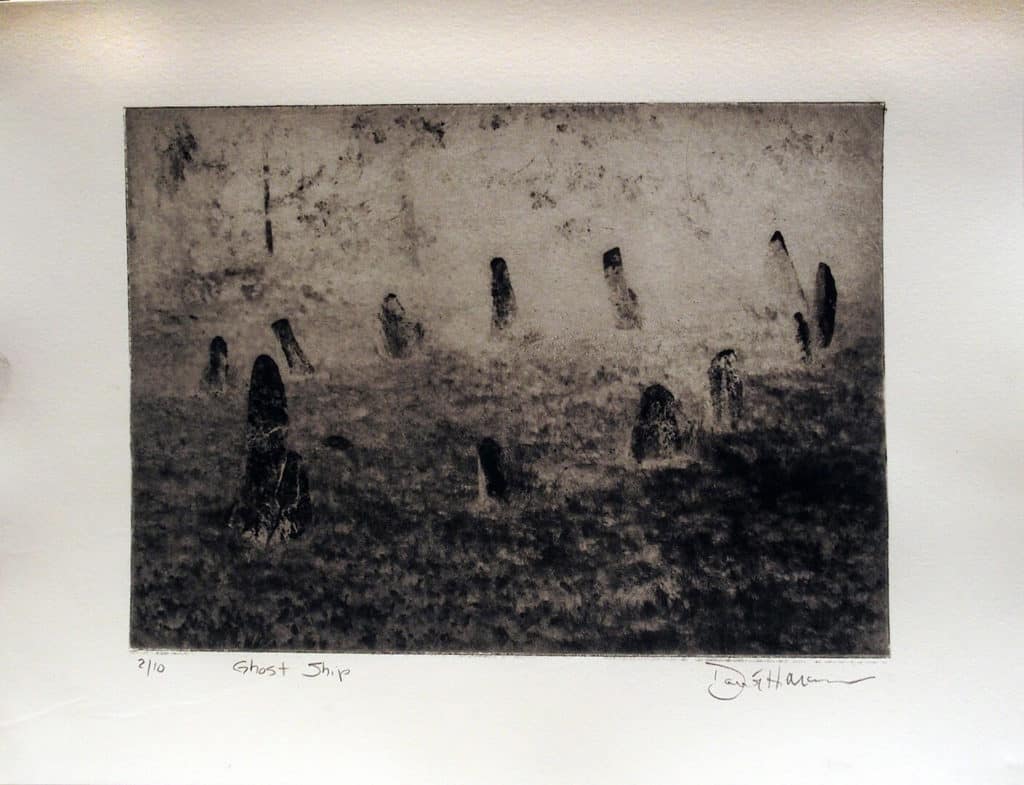 "It's print making, which I never see enough of. It's an intaglio etching, so I liked that because I think it's really well done, and it had an interesting story to it. There is something very haunting about it."
Here and Always by Marta Nammack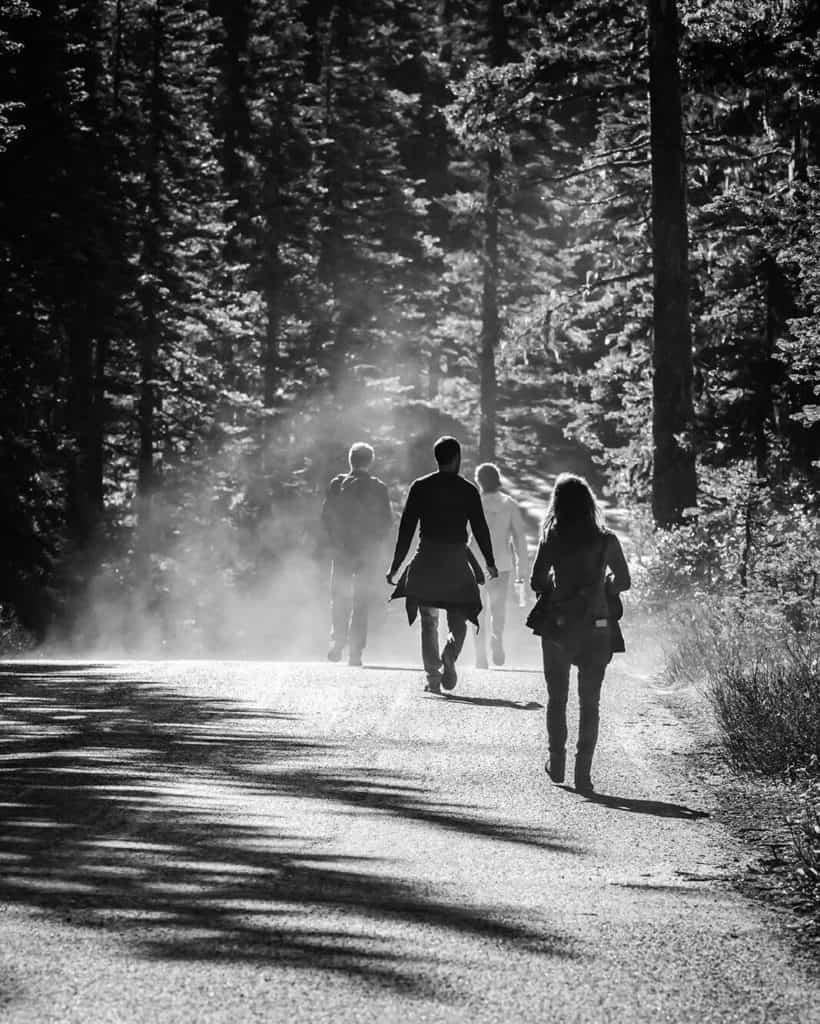 Though Nammack described what was happening,  just looking at it you don't know what's happening. You can only guess at what's happening. I found that really intriguing because it could be something really good or it could be something kind of frightening. I like the way that the triangle of light goes across the top third of the image and the darkness behind the trees.
Steel Town by Craig Nedrow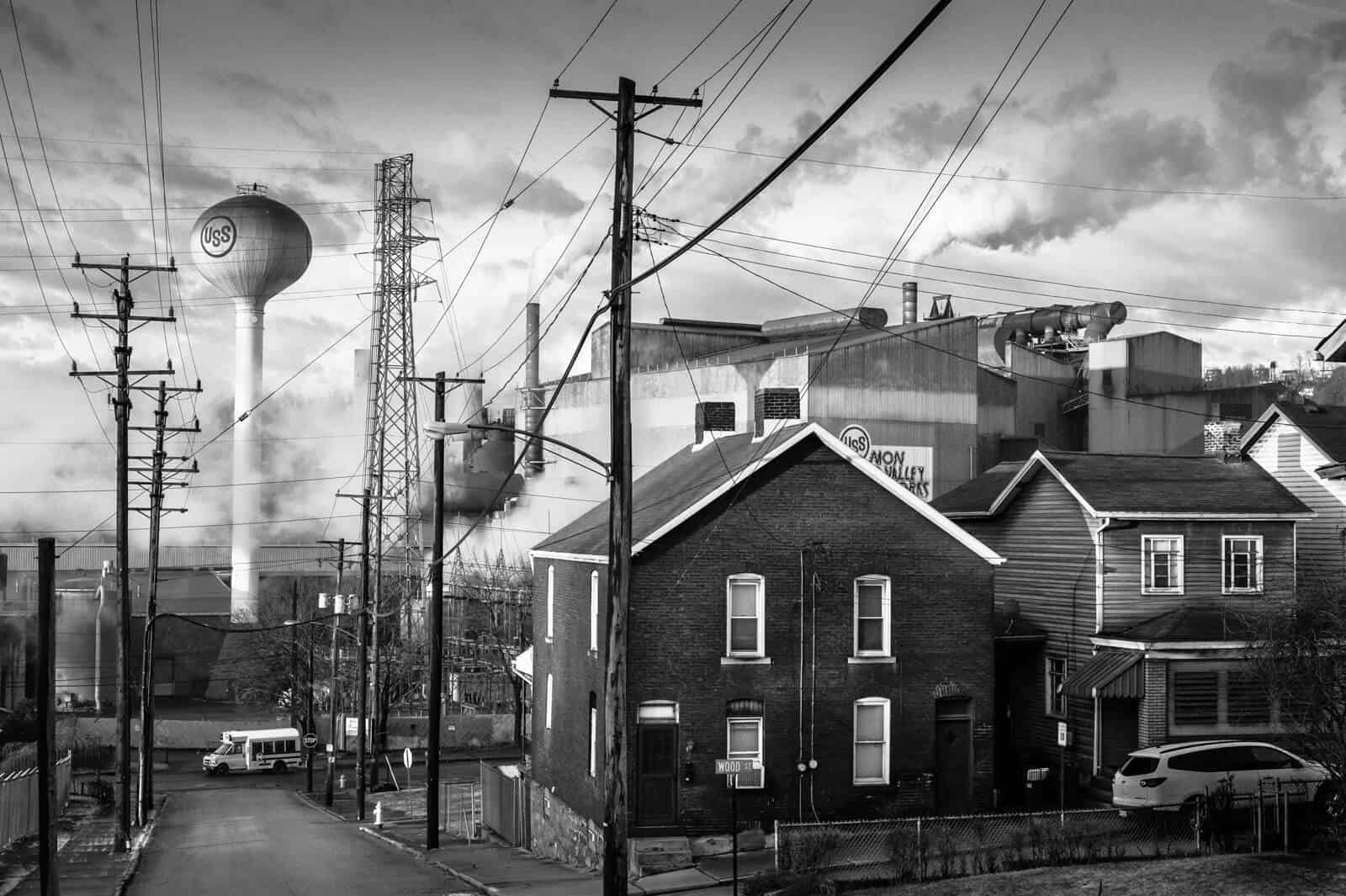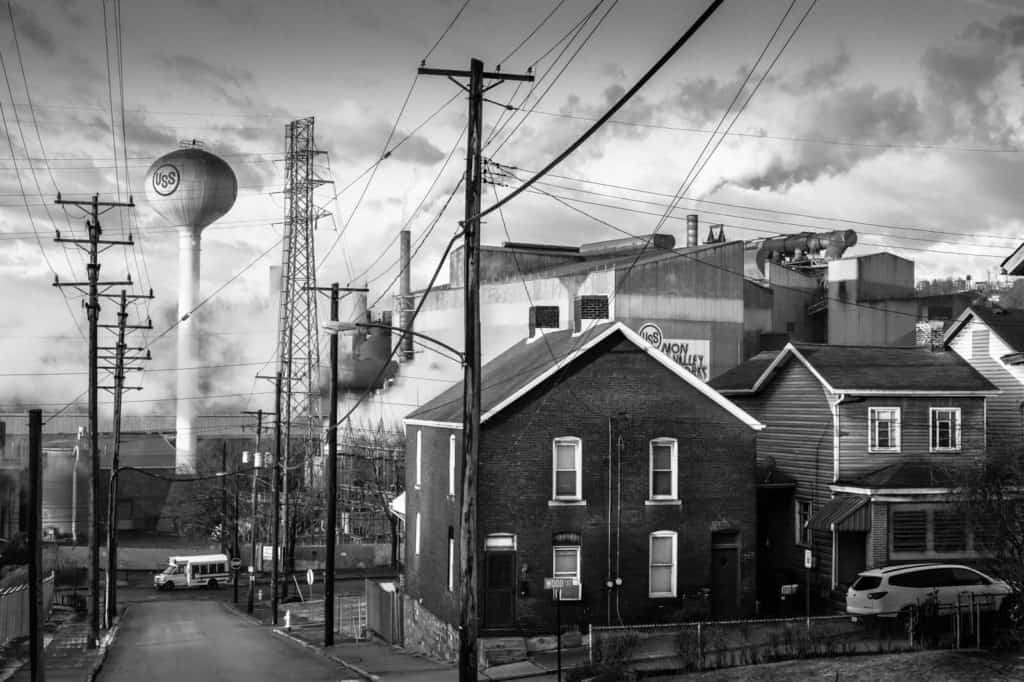 "If you know anything about steel in this country, you already know part of this story. You can just feel the grittiness of the whole scene, and then apply what you know about steel in this country to it, and it tells a very interesting story. I love the color palette, the black and white and the power lines."
Desi by Jacqueline Saunders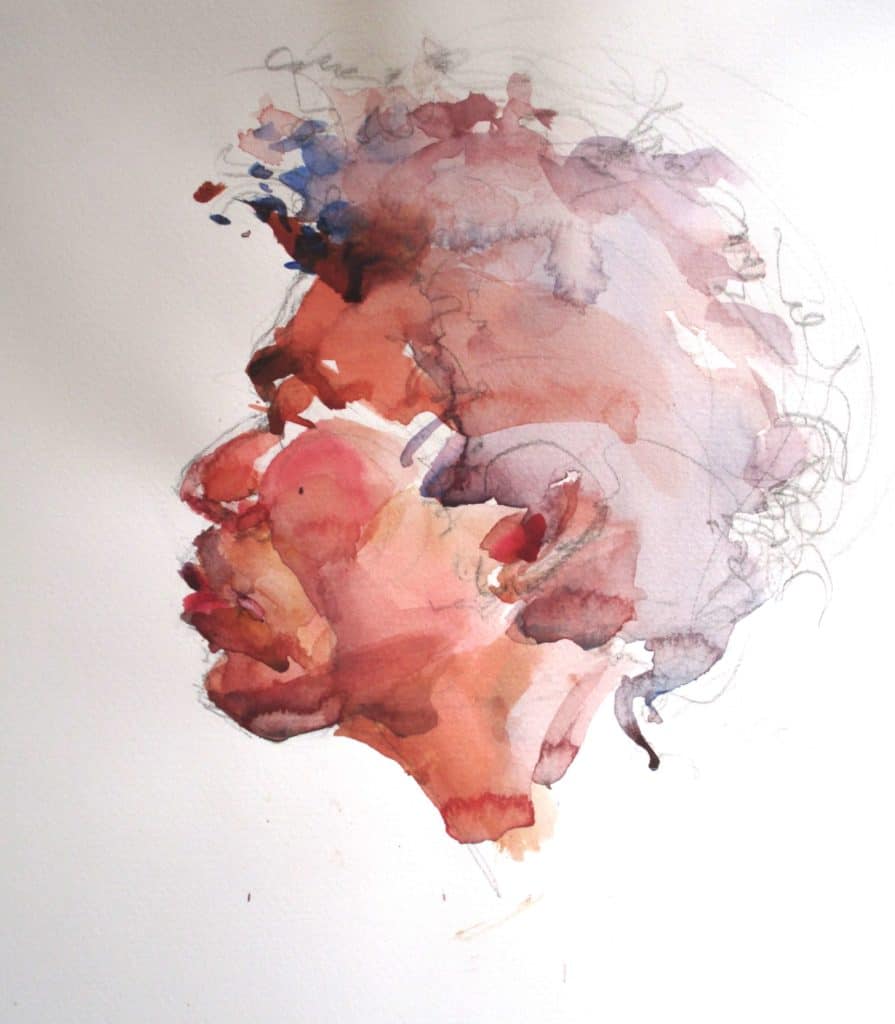 "Portraits are hard to do. I love that with a few of these minimal strokes of watery paint and some pencil or charcoal, the artist completely shows me who this person is."
Roofs of Rome Florence Setzer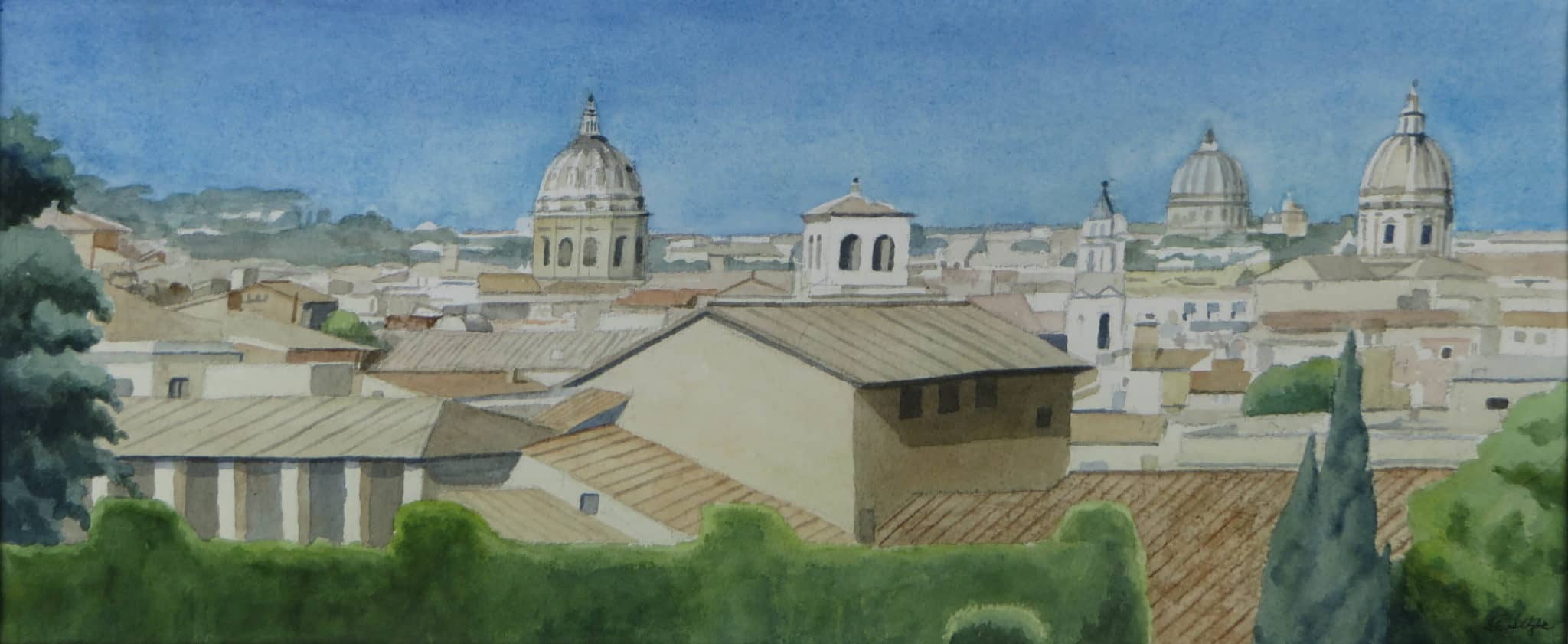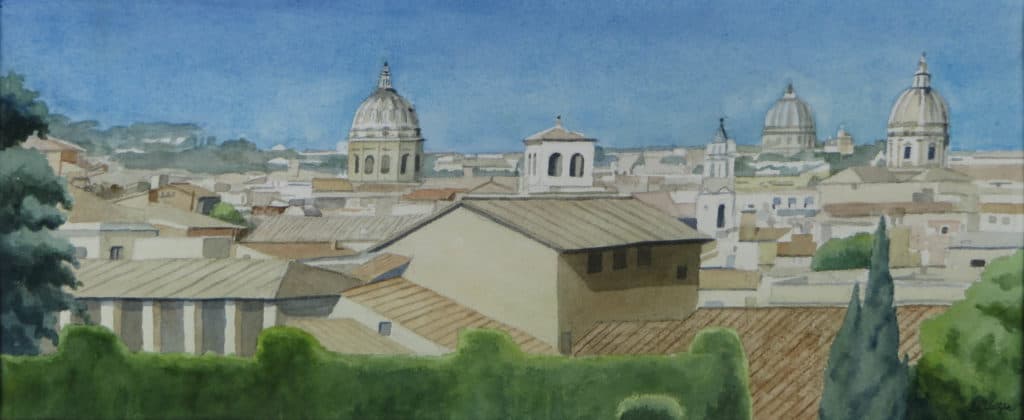 "Here's another watercolor, but very controlled, completely the opposite [of the previous one]. It is a very good drawing and the control that Setzer has with her watercolor and the whole composition is very pleasing. Obviously she loves Rome. It's a like a little love letter."
Moving Forward by Jan Sherfy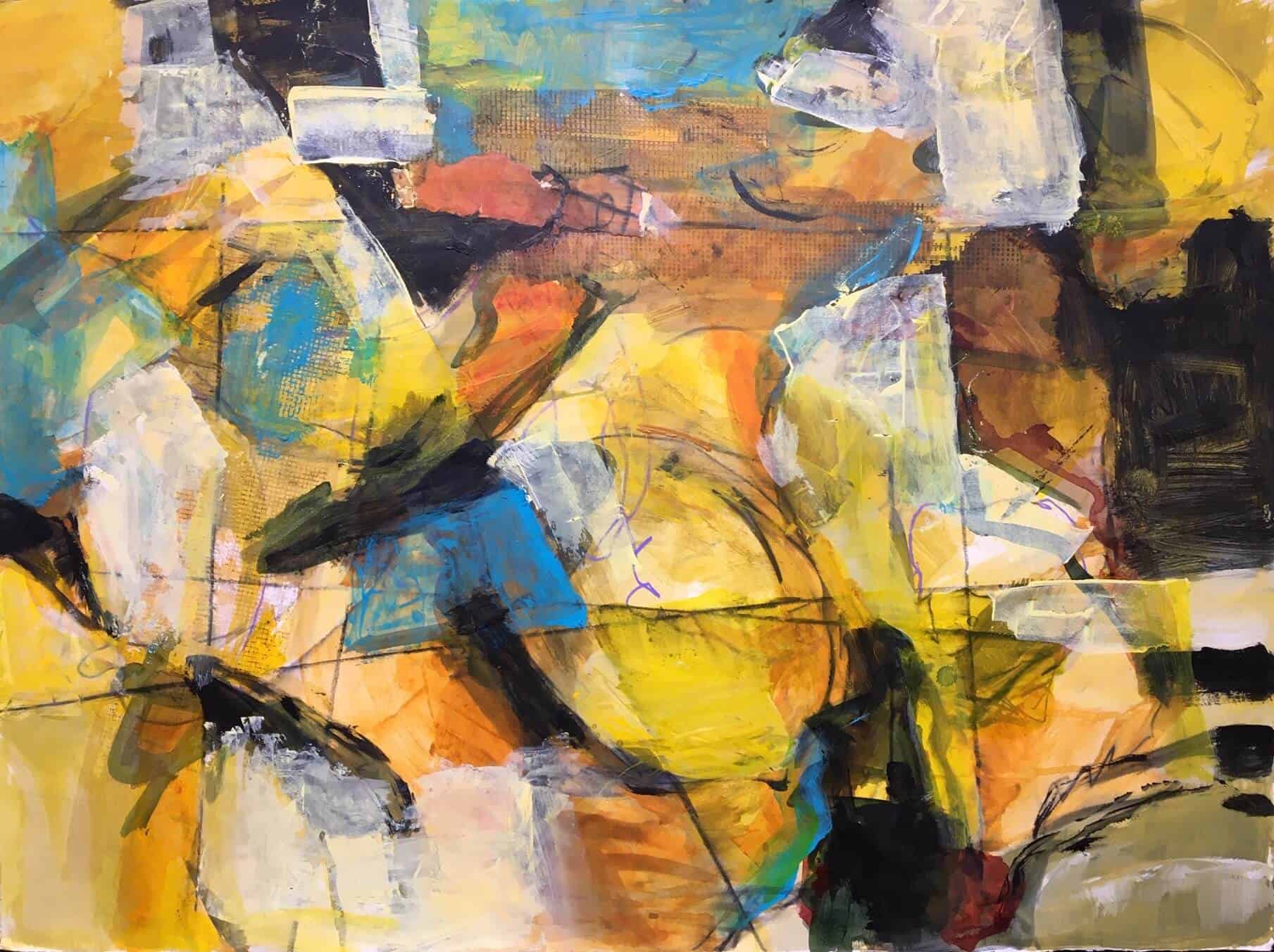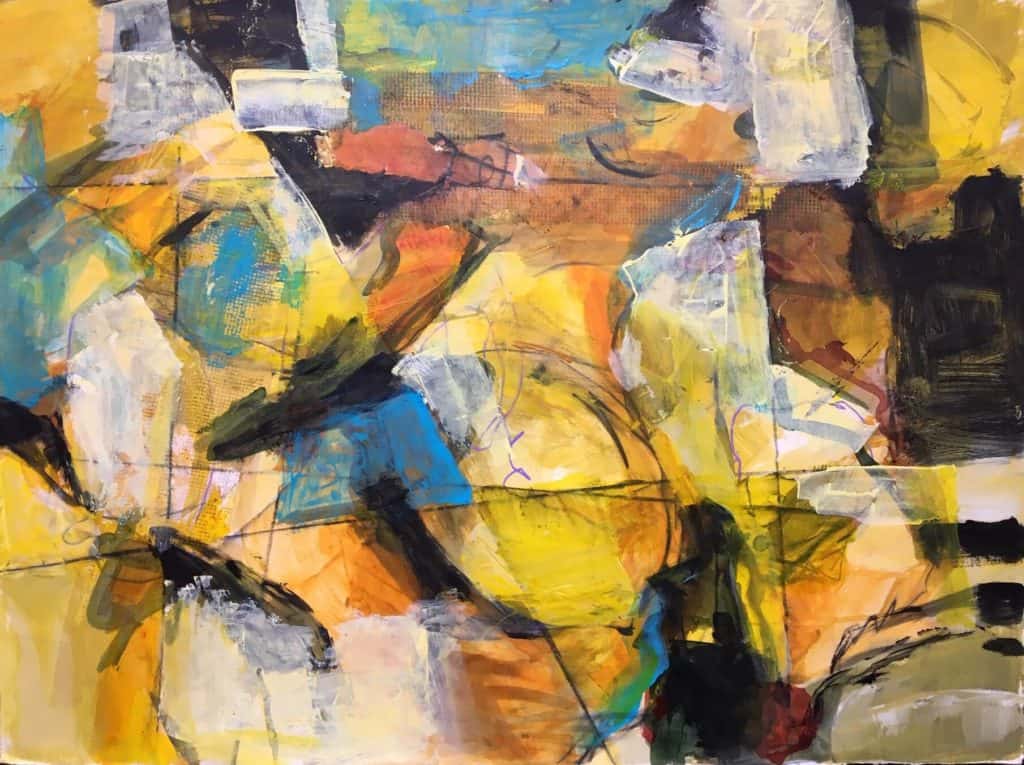 "Excellent composition. I love the colors and the detail in this work. I love there's a whole lot of different textures. I think Sherfy really nailed it."