Illustrator and School of Visual Arts drawing instructor Carol Fabricatore likes to be out and about where she can observe things, be they fleeting moments in a cityscape or the abundant spectacles found in nature. "A lot of my work is done on location, so it is very in-the-moment and energetic," she says from her Westchester, New York home where a sabbatical from The School of Visual Arts in Manhattan has also become an uncertain period of social distancing as a result of the COVID-19 pandemic.
Ultimately, she says, it all boils down to storytelling. "It's about finding what's important to me, what I'm curious about, and then exploring that in a series of works where each piece tells a certain part of the story. It's very narrative."
Fabricatore had plenty to observe, and possible narratives to ponder, as the juror of our nature inspired exhibition March Flora/Fauna. "I really didn't know what to expect," she admits. "I thought it was going to be mostly painting and drawing, and I was pleasantly surprised and very pleased with the variation [of artwork]—sculpture and even photography. It was all really interesting and really strong."
Here, she talks to our blog editor Julia Chance about what inspires her, why she loves teaching, and which works in March Flora/Fauna struck an emotional chord.
The Art League: How do you describe your work?
Carol Fabricatore: I am an artist who has always worked on location in urban, and semi-rural settings. I love the diversity and energy of New York in all its ways, and that there's always a story, everywhere. I love being a visual storyteller. I also love working in botanical gardens and locations with landscapes.
I work in several sketchbooks at the same time and they can include figure drawing and people in subways or cafes, animals, or different personal projects. Then I have a couple that are specifically themed, like one for a series of personal work revolving around landscapes and another dedicated to a series of drawings inspired by Coney Island. I use my drawings from my sketchbooks to work up and create larger paintings in my studio for galleries. I also do illustration for editorial and books.
TAL: What mediums do you like to work in and why?
CF: I like to use a lot of different mediums depending on what the circumstance is, whether it's on-site or in my studio or how I'm feeling that day. Sometimes I use a single medium or in conjunction together with others. I use watercolor, gouache, acrylic and different inks. I've also been making monoprints lately. When I work on-site, I need mediums that are portable that I can manage. When I'm in my studio I can spread out and use paints like acrylic and gouache. I don't work digitally.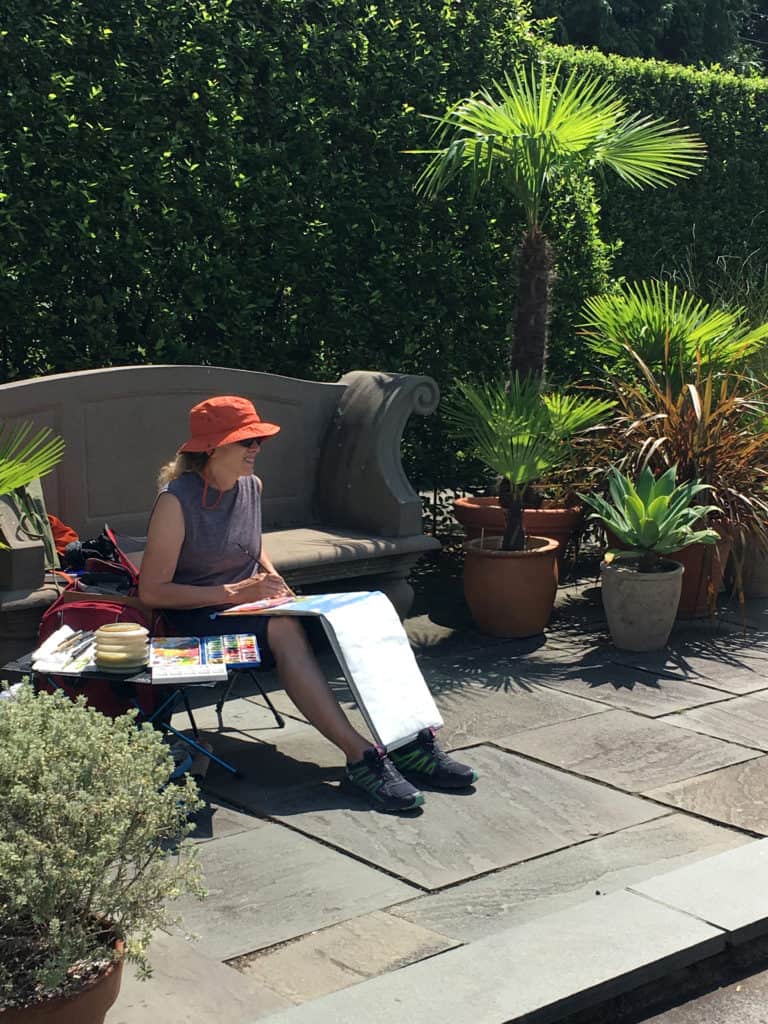 TAL: What is narrative drawing?
CF: Narrative drawing is art that tells a story, either as a moment in an ongoing story or as a sequence of events unfolding over time. Narrative storytelling and working in a series  allows me to visually consider and capture moments that succeed and are replaced by other moments, to explore themes, and to bring out more intimate depictions of mood, atmosphere, passages of time, personal insights and complex thoughts.
TAL: You have taught narrative drawing  for an MFA program at the School of Visual Arts for quite a while. What do you enjoy about teaching?
CF: Teaching makes me revisit everything I've ever learned and want to share with my students. I teach observational drawing in the studio and on location. It's endlessly fulfilling and challenging. I love to introduce students to new ways of seeing and have them find a personal connection to what they want to draw. It's important to recognize what they are curious about and to trust their intuitive response.
I have students do a lot of experimenting with different approaches and drawing instruments. I love having conversations about what's really important to them, and to help them see the surprising and positive discoveries they make in their work. I like being a guide in their journey of finding their personal voice. Rewarding, exciting, invigorating, gratifying and a great learning experience for me, as well, teaching is all of those things.
TAL: What was your overall impression of the works submitted for March Flora/Fauna?
CF: I was very impressed with the work and extremely happy with the overall level of talent. I examined each entry for its artistry and how well it fit the chosen theme, ultimately selecting my favorites for exhibition. It's so fascinating to see how artists saw the flora and fauna theme.
TAL: Describe your process selecting the best-in-show winner and honorable mentions.
CF: I took great care with my selections, and I really enjoyed the process. I pored over digital images of artists' submissions for several days before narrowing the field to 100 artists, the best-in-show, and ten honorable mentions. Each artist portrayed flora and fauna in their own unique way, including representations of animals, flowers, gardens, and insects. This is such a lovely topic for which to create imagery. I've been impressed with what I've seen in the entries. Selecting the best-in-show was very difficult. It was down to two images, both were strong, beautifully created and powerful. I ultimately went with the one that I kept coming back to, right from the first time I saw it, for best-in-show. This is a really strong exhibit because there are so many different takes on the theme, and artists range from using painting, collage, photography, drawing, and even 3D work.
TAL: Was there anything about the submissions that surprised you?
CF: The many different ways of expressing what the artist felt about the theme, using many varied approaches and mediums.
TAL: What advice do you have for artists submitting work for exhibition?
CF: When you photograph or scan your work, make sure it is a really good picture or scan. Refrain from submitting a photograph of work in a frame because it is usually difficult to light in an ideal manner. Choose the pieces that mean something to you and that you feel are the strongest. I know you can sometimes enter up to three artworks in a show, but don't just add others because you can. Bring your passion and your voice to your imagery. Love what you do. Trust your intuition.
Best-in-Show Award winner Lismore Flowers by Angela Lacy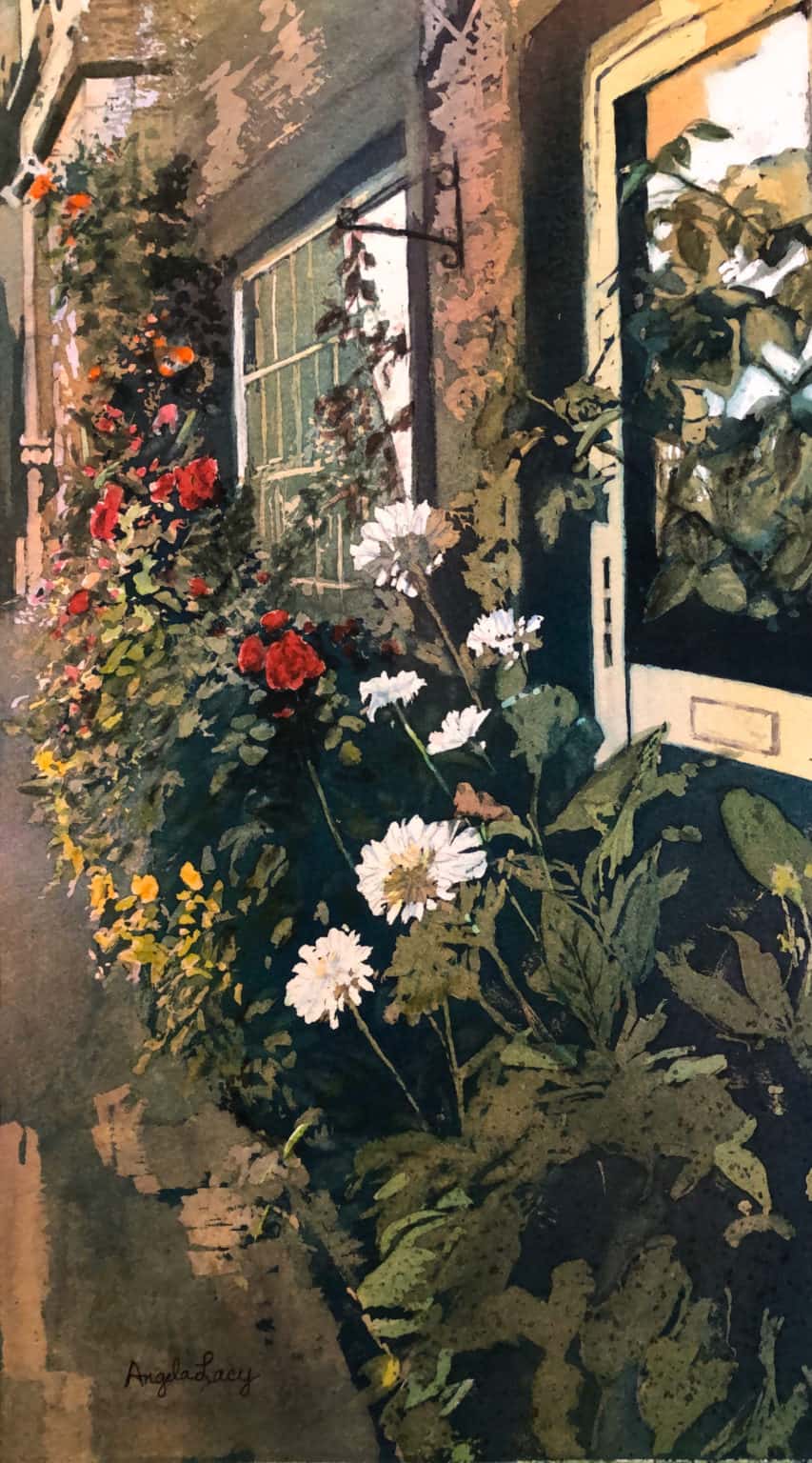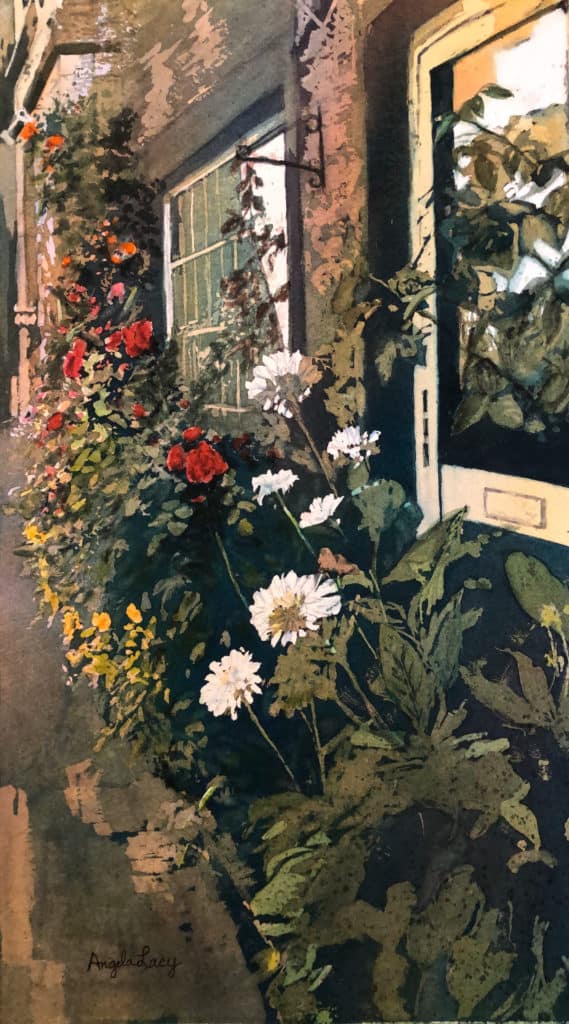 "This really struck me right away in an emotional way and made a deep impression, especially with the harmonious colors and striking composition. It has the feeling of a Japanese woodblock the way the artist used the light and shadow to create dramatic graphic shapes, depth and contrasts. I loved the use of specific bright colors that lead the viewer into the image in a graceful way from the largest white flower meandering up and around the red, yellow and vermillion flowers diagonally up to the top. The organic shapes of the flowers, leaves, and vines, juxtaposing the architectural structure of the building is striking. This image for me has a deep underlying evocative quality of things hidden underneath as well. It's not simply what you are seeing on the surface but what you're feeling."
Honorable Mentions:
Eye To Eye by Gloria Spellman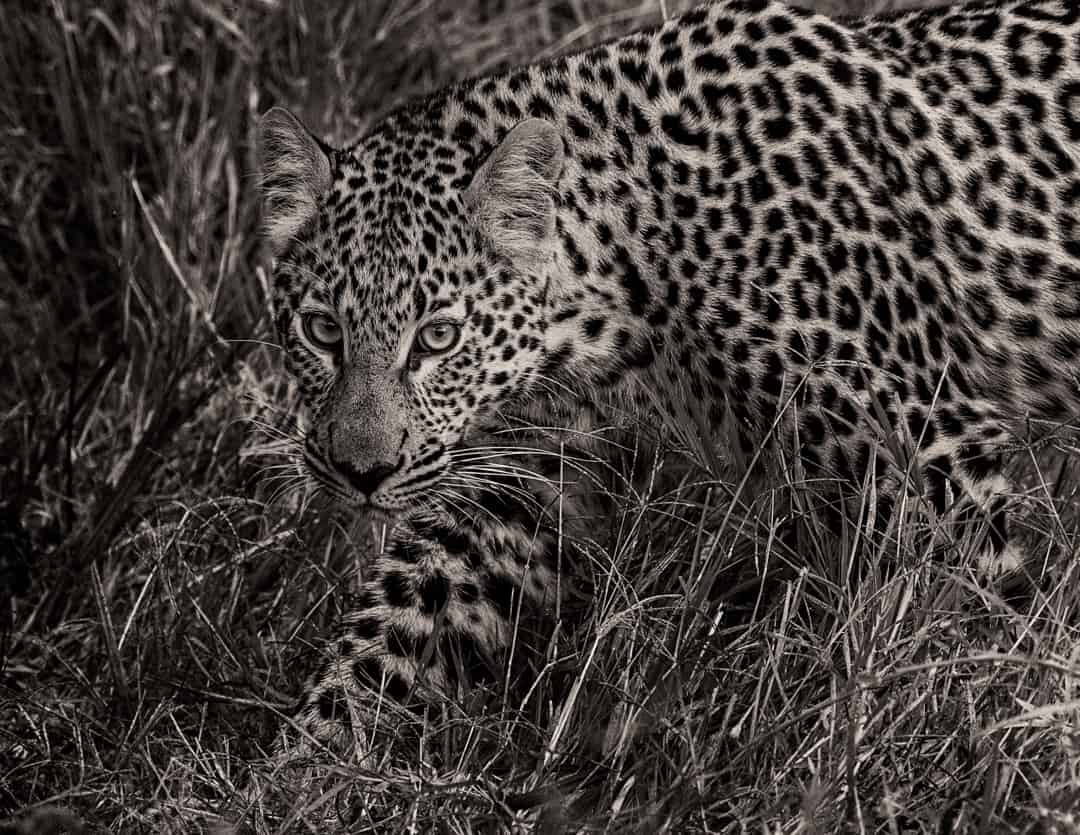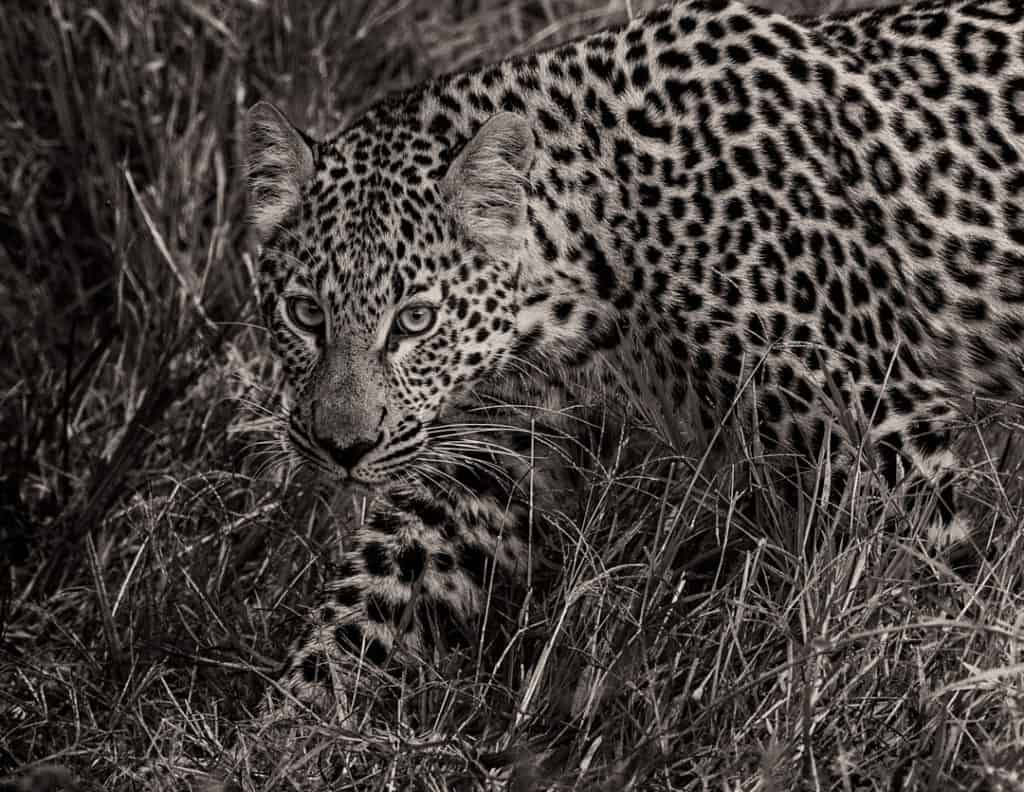 "I loved all of the patterns, textures, and the camouflaged quality of the subject. I felt my adrenalin kick up a bit looking into the leopard's eyes staring back at me. The confrontation with the viewer creates tension. The image has so much movement, from the blur of the grasses to the different directions of the pattern of markings on the leopard as it moves into the frame. It's beautifully composed."
Landscape by Daiva Balkus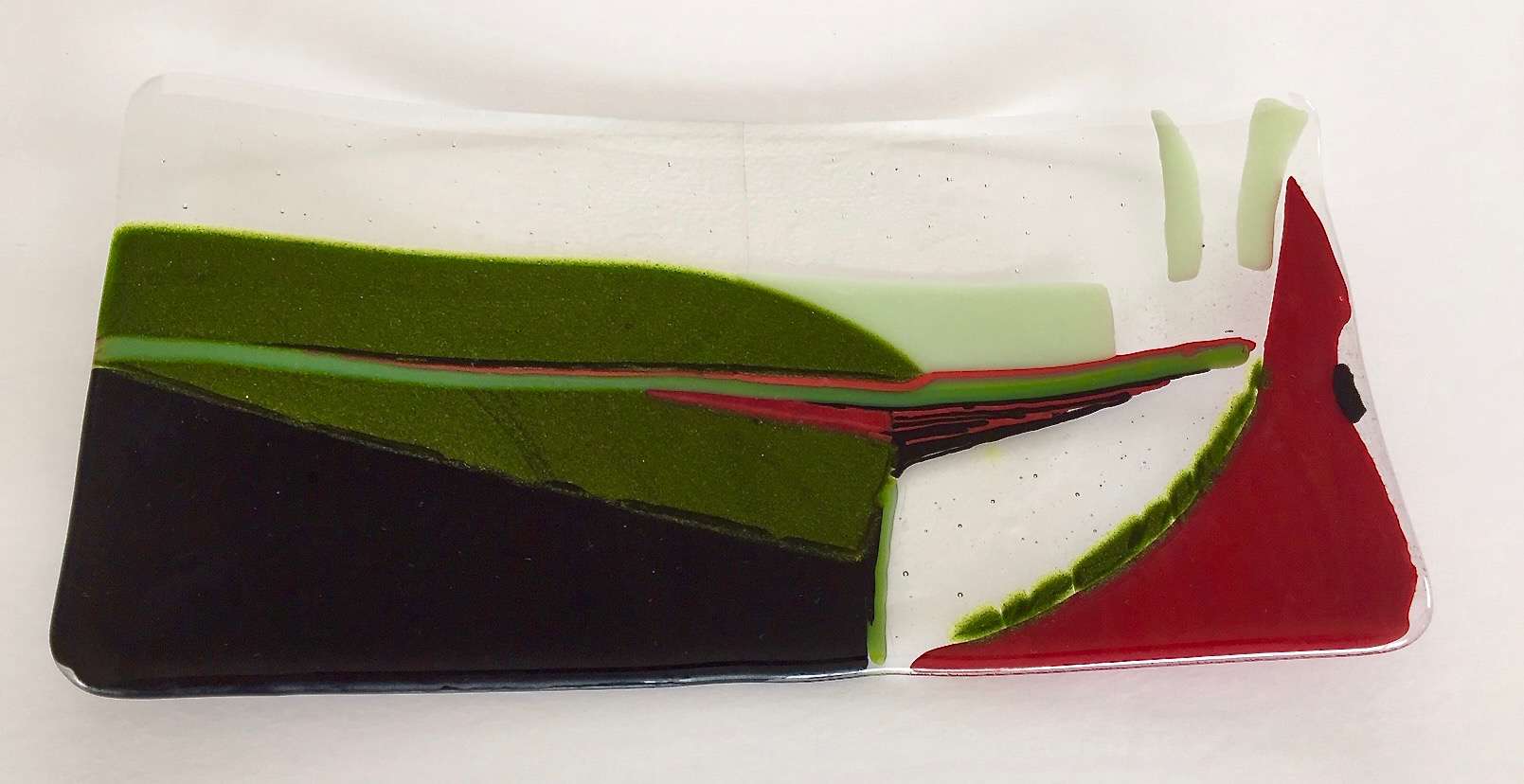 "I found this three dimensional piece of different colored glasses exceptionally minimal and abstract. The choices of color combinations and composition are exquisite. It really felt like a landscape to me with the balance of economic shapes, forms, angles and curves. It's aesthetically gorgeous."
Looking for Lunch by Eva Lanyi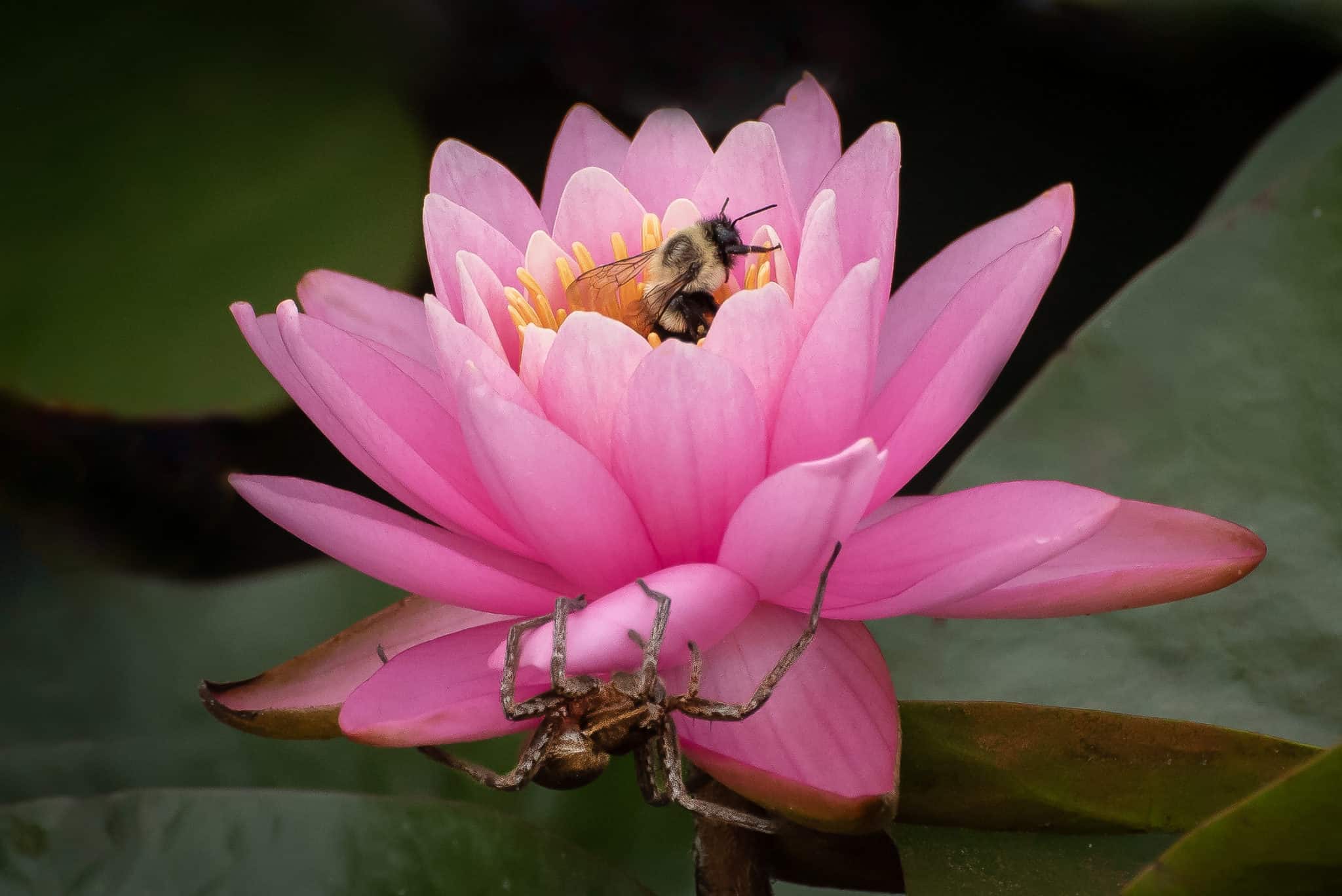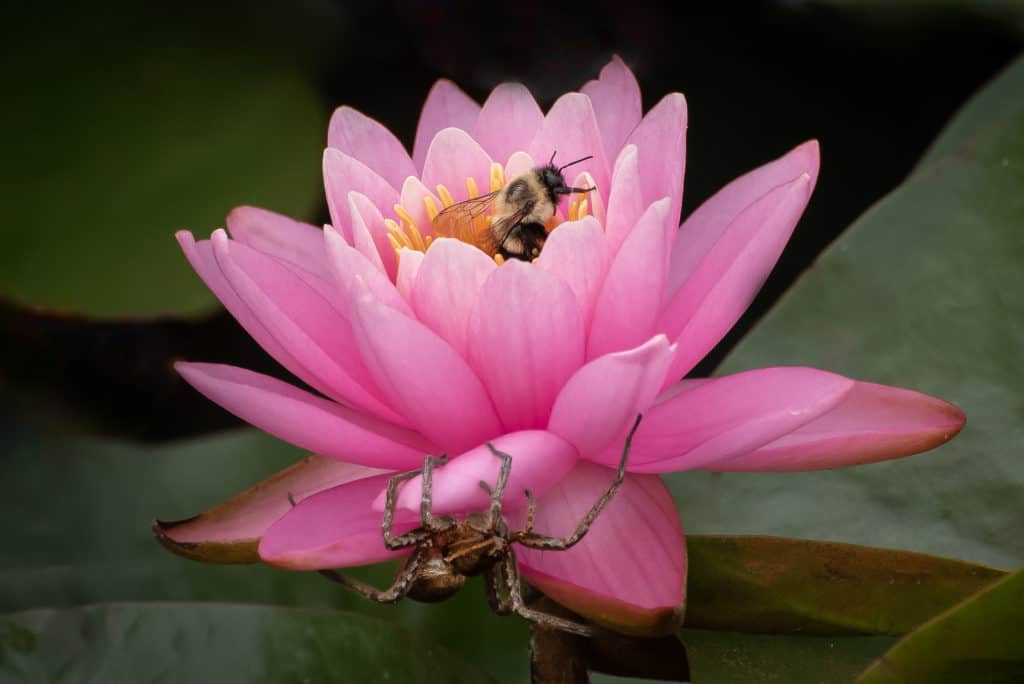 "This is a whole circle of life moment. What great storytelling, humor, surprise, drama and intense anticipation. The beautiful details in the spider, flower and the bee are incredible. It's a perfect combination of fauna and flora!"
Morning Rose by Paul Seymore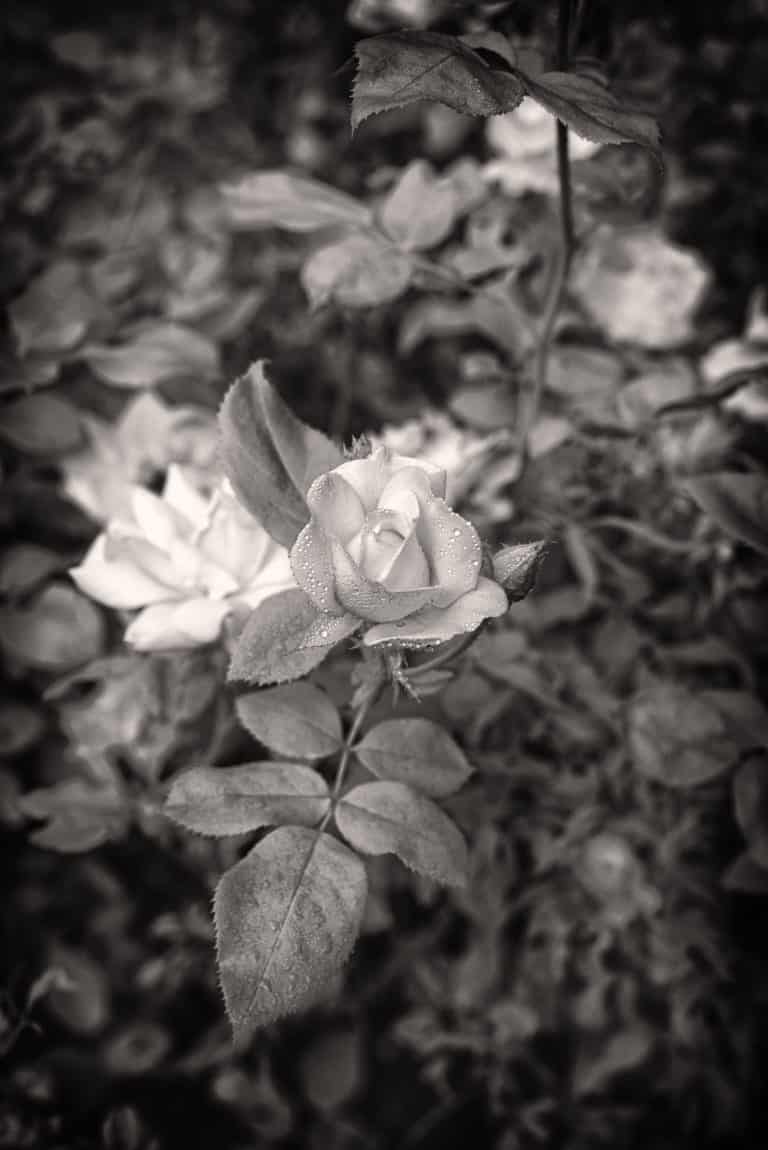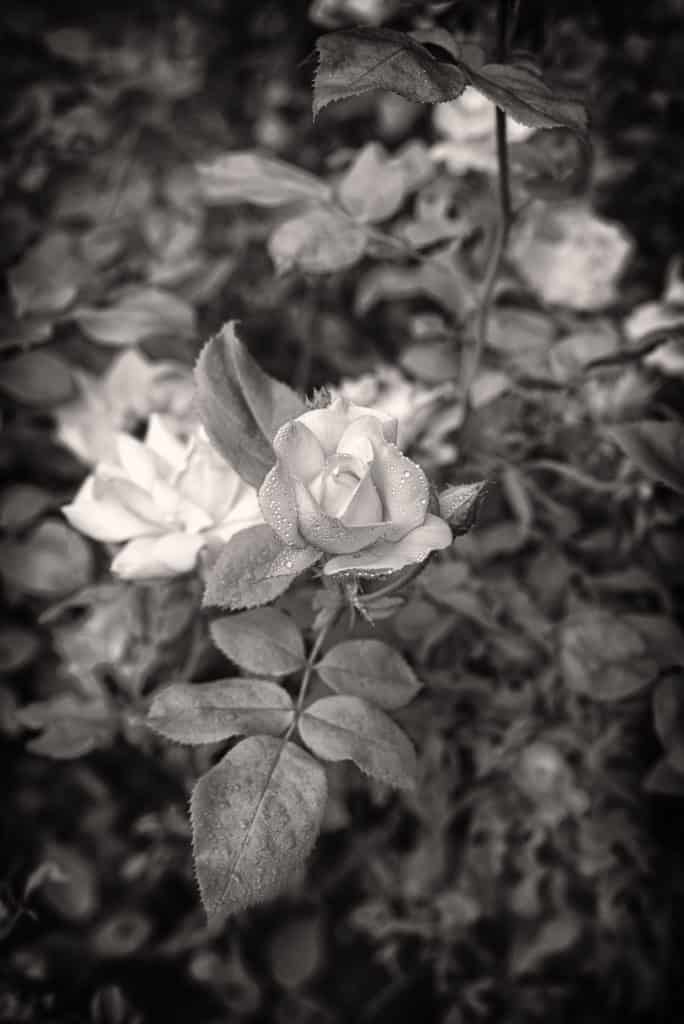 "This image of roses is so sensitive and delicate. I love seeing the droplets of water on the pedals, like glistening pearls. It reminds me of the importance of the single rose in Beauty and the Beast, and suggests a fairytale story behind it. The way the central rose comes into focus and everything else melts away into a less important role is moving."
New Sight by Stephen Procopio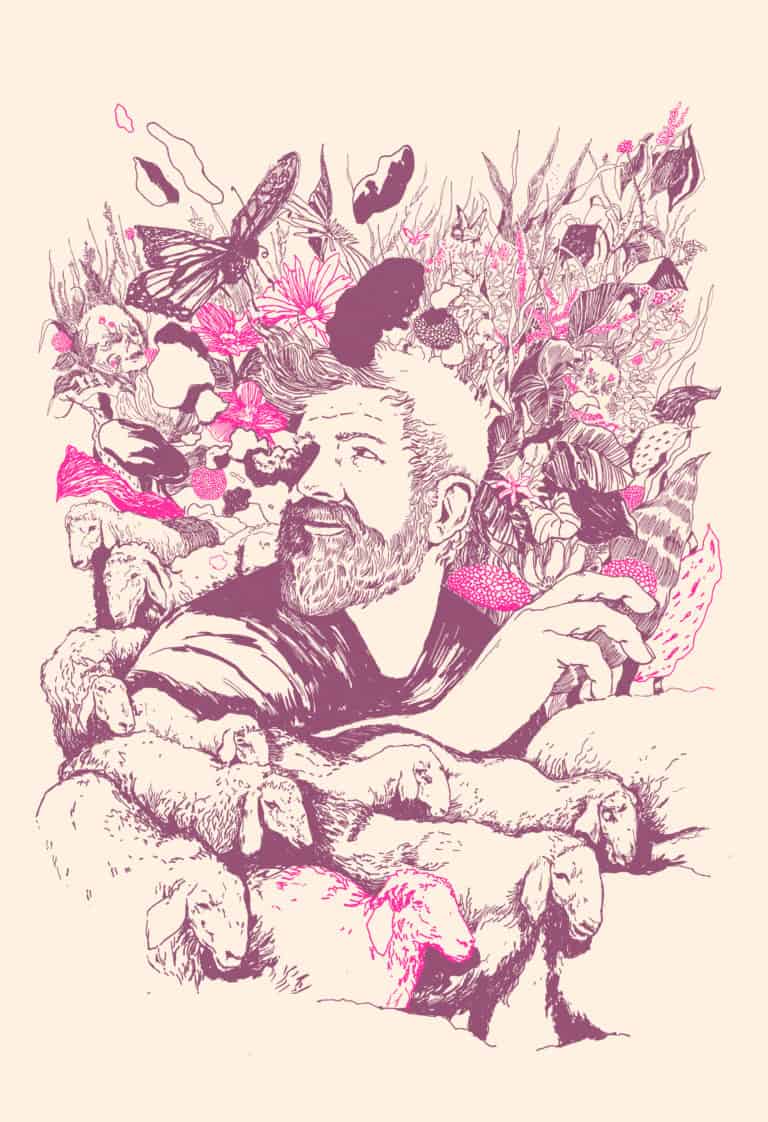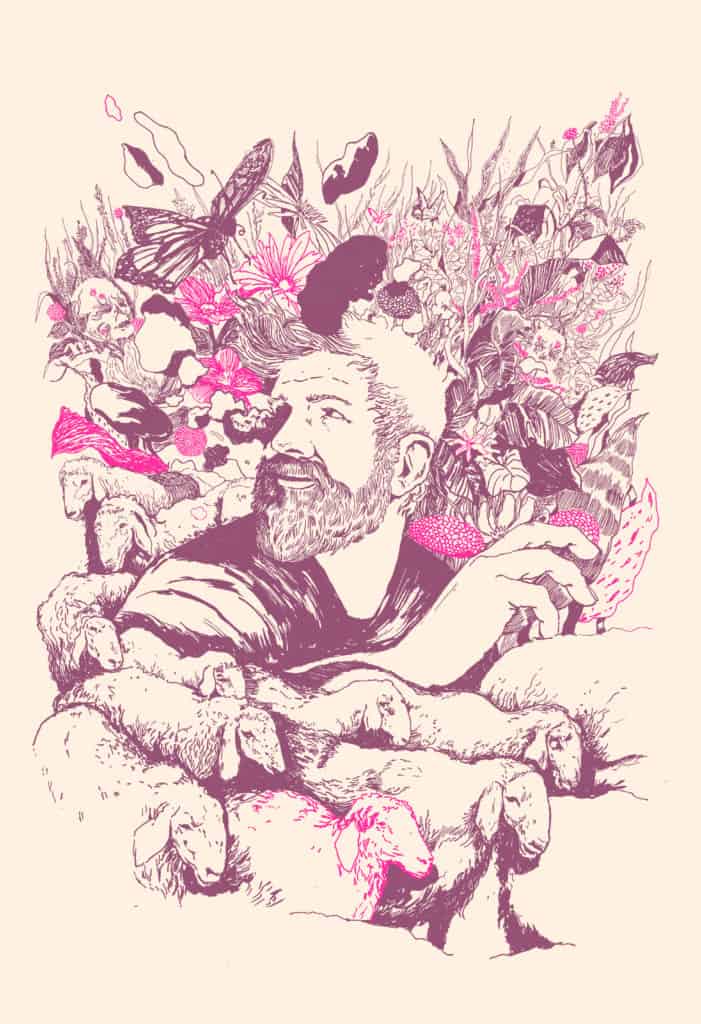 "When I look at this piece I feel like I have a secret window into a dream of the artist. The central figure seems to be looking upwards towards a hidden face or muse in the garden. The garden seems very animated with a multitude of fauna and flora. There's so much suggested storytelling and the artist invites the viewer to bring his or her own interpretations to it. I love traveling around the piece discovering all of the mark making within the vocabulary of line work. The balance between the contoured lines, the different textured marks and the more solid areas is lovely and exciting."
Red-Bellied Beauty by Emily Piper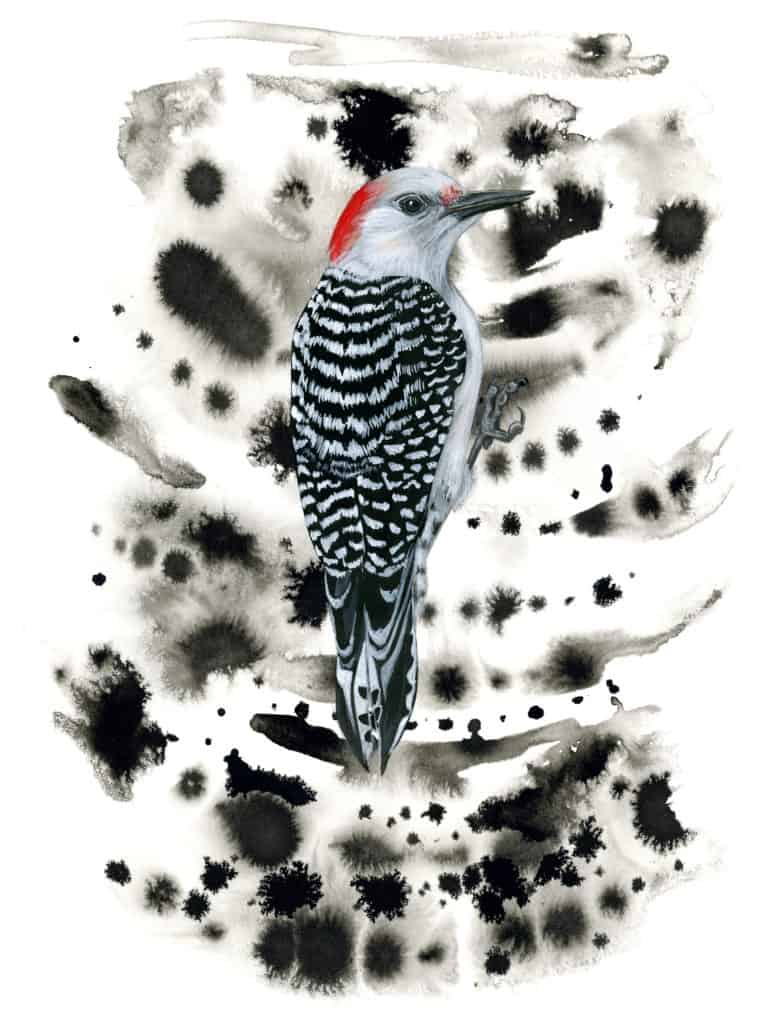 "This image was striking in a way that I just kept coming back to it again and again. I loved the droplets of ink around and behind the bird and how they grew and spread into beautiful forms and shapes, feeling very much like abstract flora. The relationship and interaction that the artist created between the organic ink shapes and the incredibly defined and meticulous patterns of the woodpecker is magical. The red accent color on the bird just makes the piece sing."
Twilight by Leslie Chekin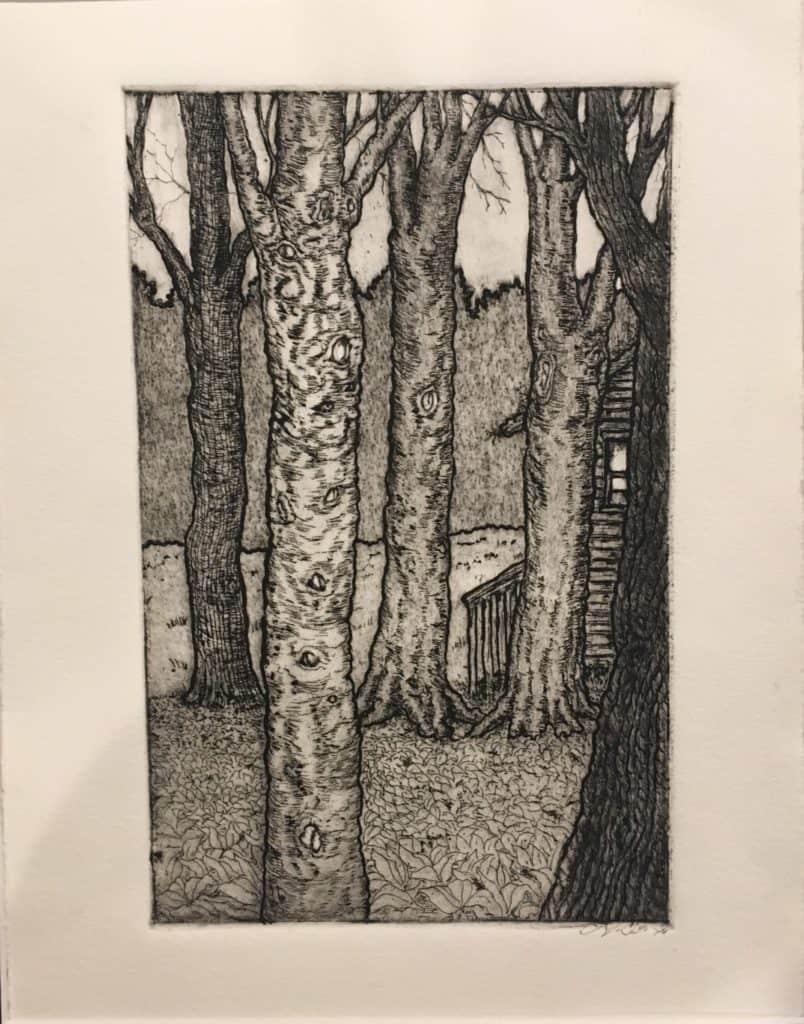 "This image feels like the artist captured the special time of day where it feels enchanted. I love the small sliver of space between two of the trees showing the subtle glow of light making the image very narrative. The repetition of the vertical trees and the way the artist uses the positive and negative spaces between them makes this a beautiful composition. The tree that I see first as a focal point with all of the "eyes" on it seems to have many secrets and adds to the mystery of the scene. The image is so sensitively drawn."
The Verdant Surface of a Quaking Bog by Ann Steele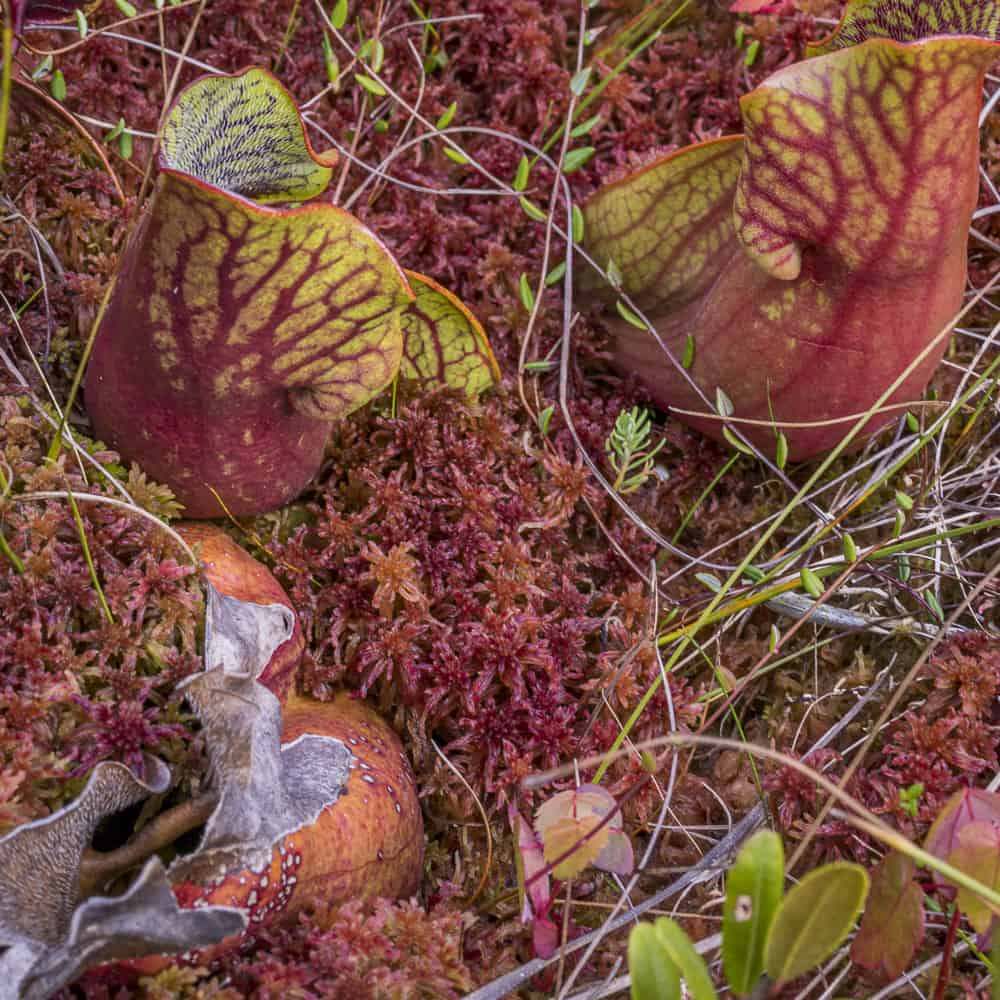 "This artist creates a whole garden of delights with the delicacy of the gorgeous complementary color palette and lacy leaf shapes. It feels like you can write a whole fairy tale about the luxuriant miniature world within this photograph. The grasses and vines punctuate the image with repetition and movement. It has a charmed quality."
White Roses In A Hornet's Nest by Michaela Borghese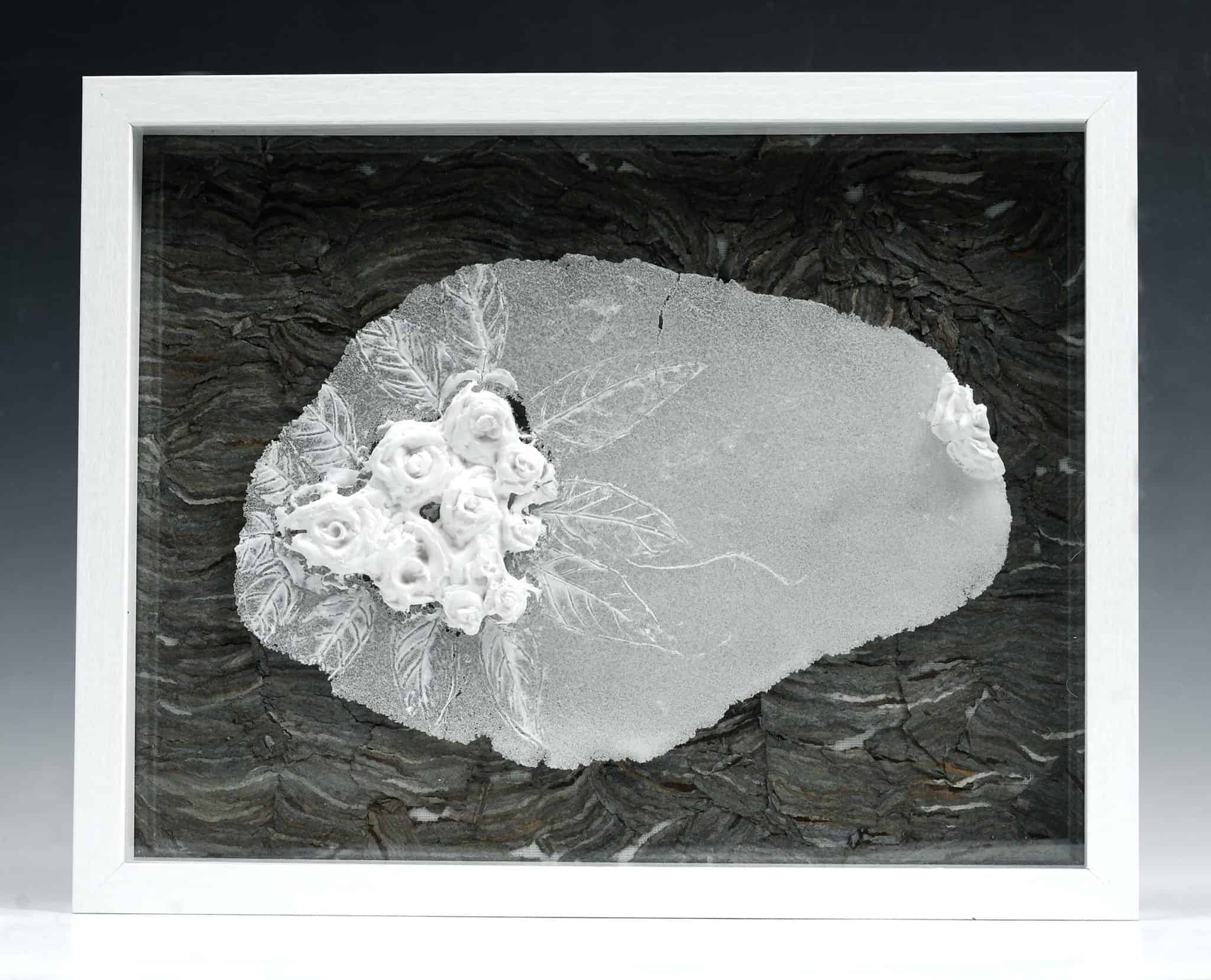 "The title alone talks about the contrasts of the subject matter of the image. It's such a delicate use of different elements coming together. Everything seems very frail but together make a strong, powerful and thought-provoking image steeped with many layers. You can make many connections between the roses with thorns that can prick and a hornet's nest that once housed creatures that can sting. The main amorphous transparent white shape that holds the roses juxtaposed against the swirling lines of the hornet's nest are stunning."
Piero's Table by Maureen Rabinovitz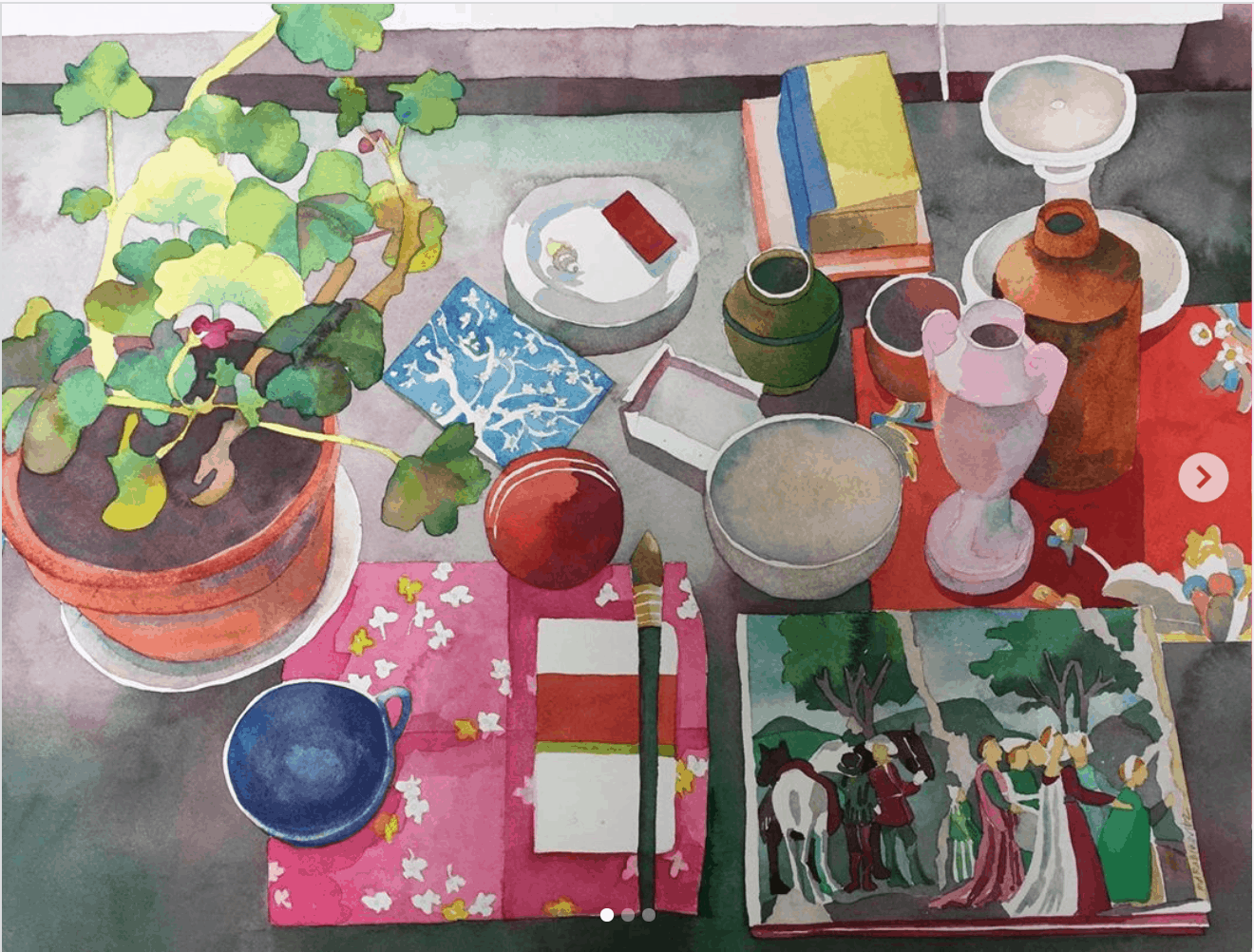 "I feel like I am sitting in the artist's chair looking through an intimate view of her drawing table from her perspective. She has recreated the early Renaissance artist, Piero della Francesca's painting of horses and riders in her own personal way. The full watercolor painting is elegantly crafted with a fresh and a gorgeous palette of complementary and harmonious colors that are stunning. She uses a collection of warm interesting shapes and forms that creates a fanciful composition and lovely use of space."