by Haven Ashley
Lismore Flowers, the March Flora/Fauna Best-in-Show Award-winning painting by Angela Lacy, is like a postcard scene beckoning you to step inside inside. In effortless watercolor, Lacy delights us with a charming parcel of Irish countryside. Lovingly pruned and abundant with blooms, the garden feels exuberant with life. White chrysanthemums, cheerful as pinwheels, reach toward northwest sunlight, leading our eyes along the garden path. One can imagine the hum of its passing visitors—bees, beetles, the occasional waxwing—flitting in and out of view as they, too, enjoy the delights of the garden. 
Lacy painted Lismore Flowers from a personal photograph taken on a trip to Ireland's Waterford County. "I was touched by how the residents and shop owners appreciated nature and took wonderful care of their flowers," she recalls. As she snapped photos of the town, an image of the painting blossomed in her mind. "I wanted to capture the essence of this garden, lovingly cared for by people."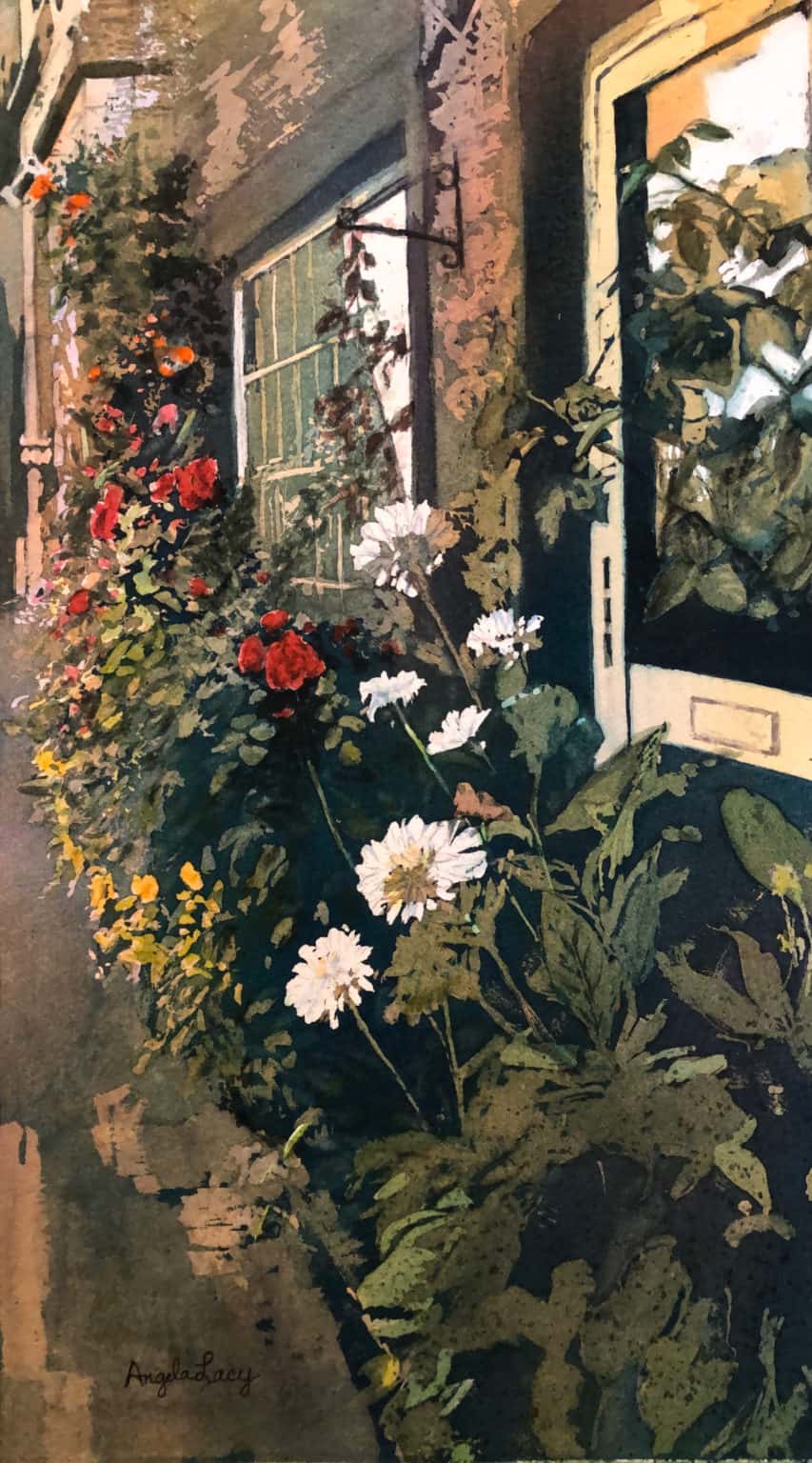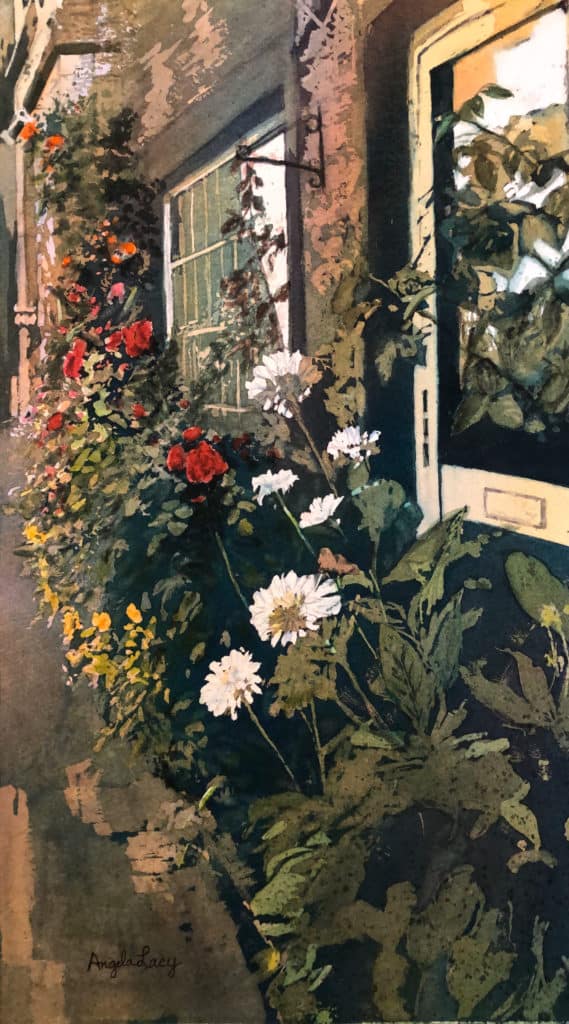 When she was ready to create her painting, she used a special method of "pouring and tilting the paper to allow diluted colors to blend." The method, she says, is influenced by her childhood growing up in Tokyo, where she was inspired by the unique composition and harmonious colors of Japanese woodblock paintings. It is both well-planned and improvisational—much like the circuition of a wild country garden. 
Lacy's pursuit and passion for watercolor began shortly after her retirement from the federal government, where she was a program analyst, in 2008. Currently, she is working on Northern Italy cityscapes—including Milan and Bergamo—from areas that she visited last year. "Now their suffering is unbearable," she remarked on the COVID-19 pandemic's assault on the region. "As I paint, I pray for the safety and protection of the people in Italy and all around the world."
Lismore Flowers is an image of life in coalescence. As Lacy walked down the shop-lined Lismore road, she witnessed two intertwined ecosystems, a humble balancing act of flora and fauna. While climbing vines travel up the shop's stone walls, proffering their pollen, the proprietors inside sell their own goods. 
Below the honeyed garden blooms, Lacy has added deep, shadowy contrast—the places of earthy darkness where roots grow low, reaching down like grasping fingers. Where seeds are sewn, stitching their roots into the soil to form nature's floral quilt. The artist reminds us that there is life in darkness and among stillness—cyclical, instinctual, and determined to thrive.