Welcome to Artful Weekend, our guide to fun and interesting ways to enjoy art in person or virtually.
This weekend: Landscapes and geometric abstracts at The League; Farida Hughes' anecdotal abstracts at Athenaeum; Jessie Gifford's territorial prints at WPG; and Gallery Underground's ode to summer heat.
June 2021 Landscape Exhibit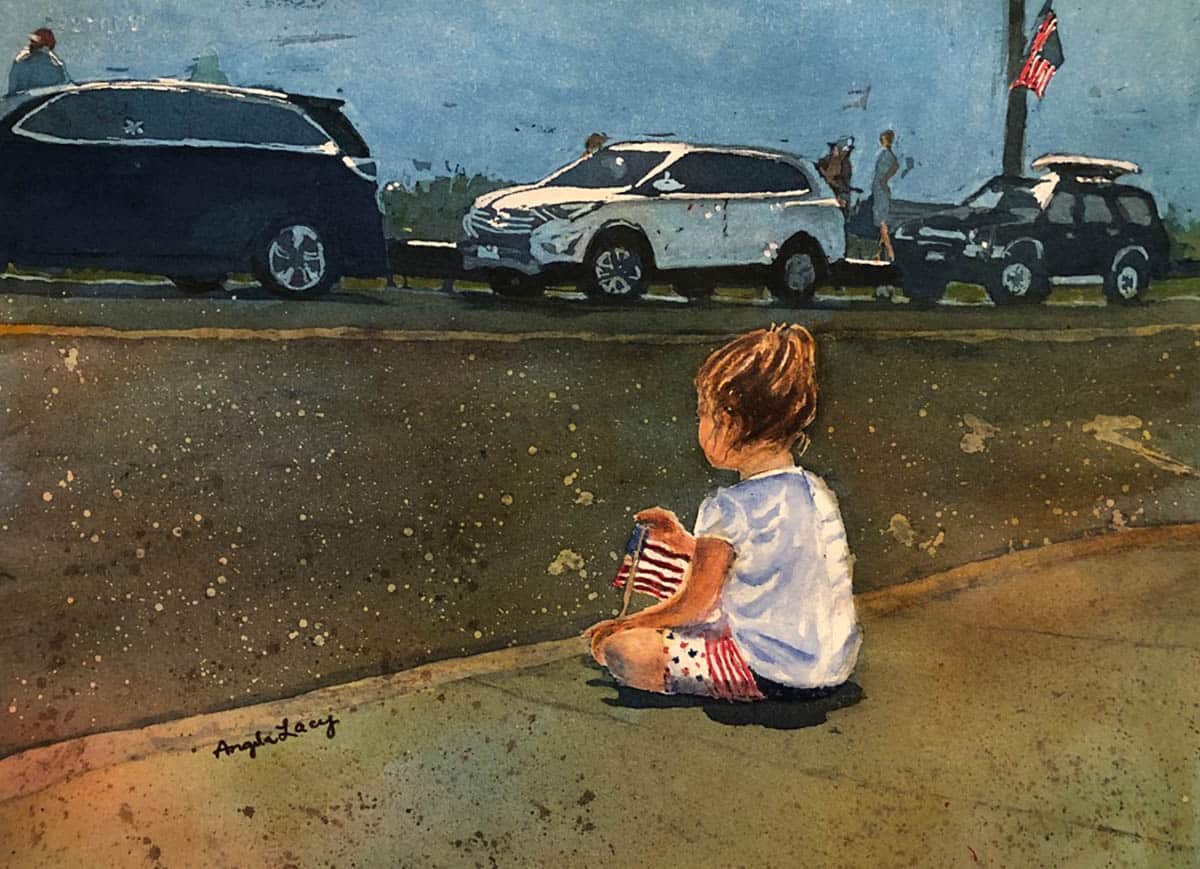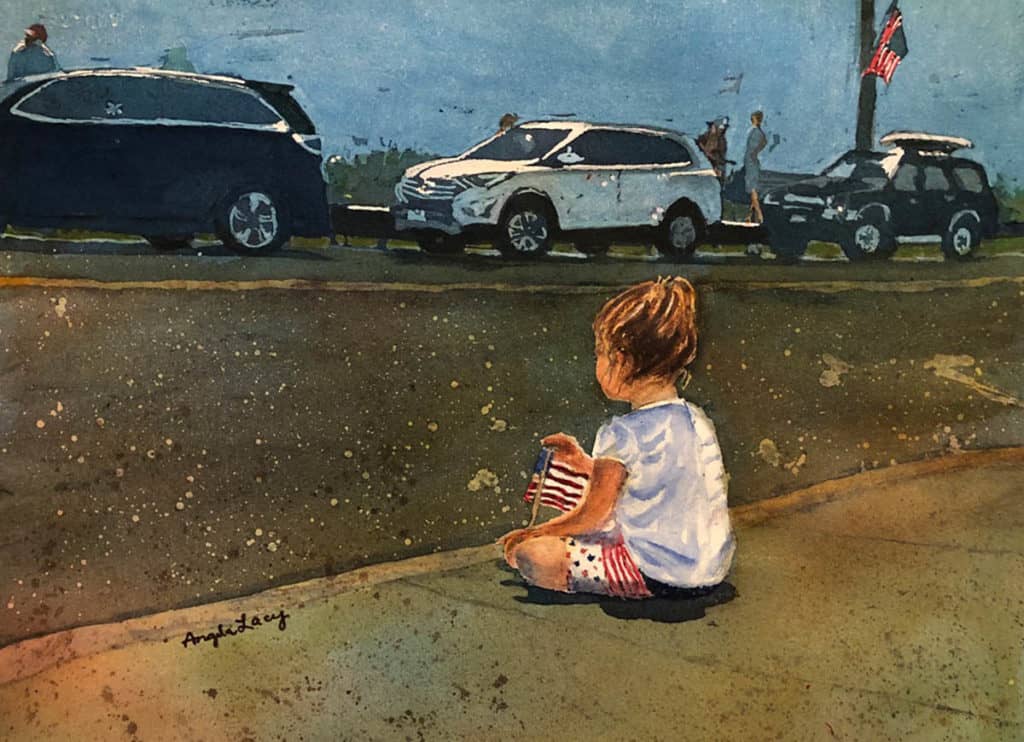 Paintings, drawings, photography, collage, and glasswork are among the many representational and abstract pieces on display in our Landscape Exhibit, juried by celebrated watercolorist John Salminen. Here, the idea of landscapes varies from remote vistas like Primal Shadows by Leanne Fink and moody streetscapes like Comfort by Blair Johnson, to architectural horizons like Old Town Charm by Rana Geralis and seashore scenes like Girl in the Green Hat by Clayton Davis. In other artworks, like Cabinet of Curiosity NO. 15 by David Alfuth or Connecting Memories by Pam Gregory, objects, figures, colors, textures, marks, and expressions are what evokes a sense of place; on view in the Gallery and online through July 3. Read what F. Lennox Campello of the Old Town Crier says about the Landscape Exhibit here.
Perspectives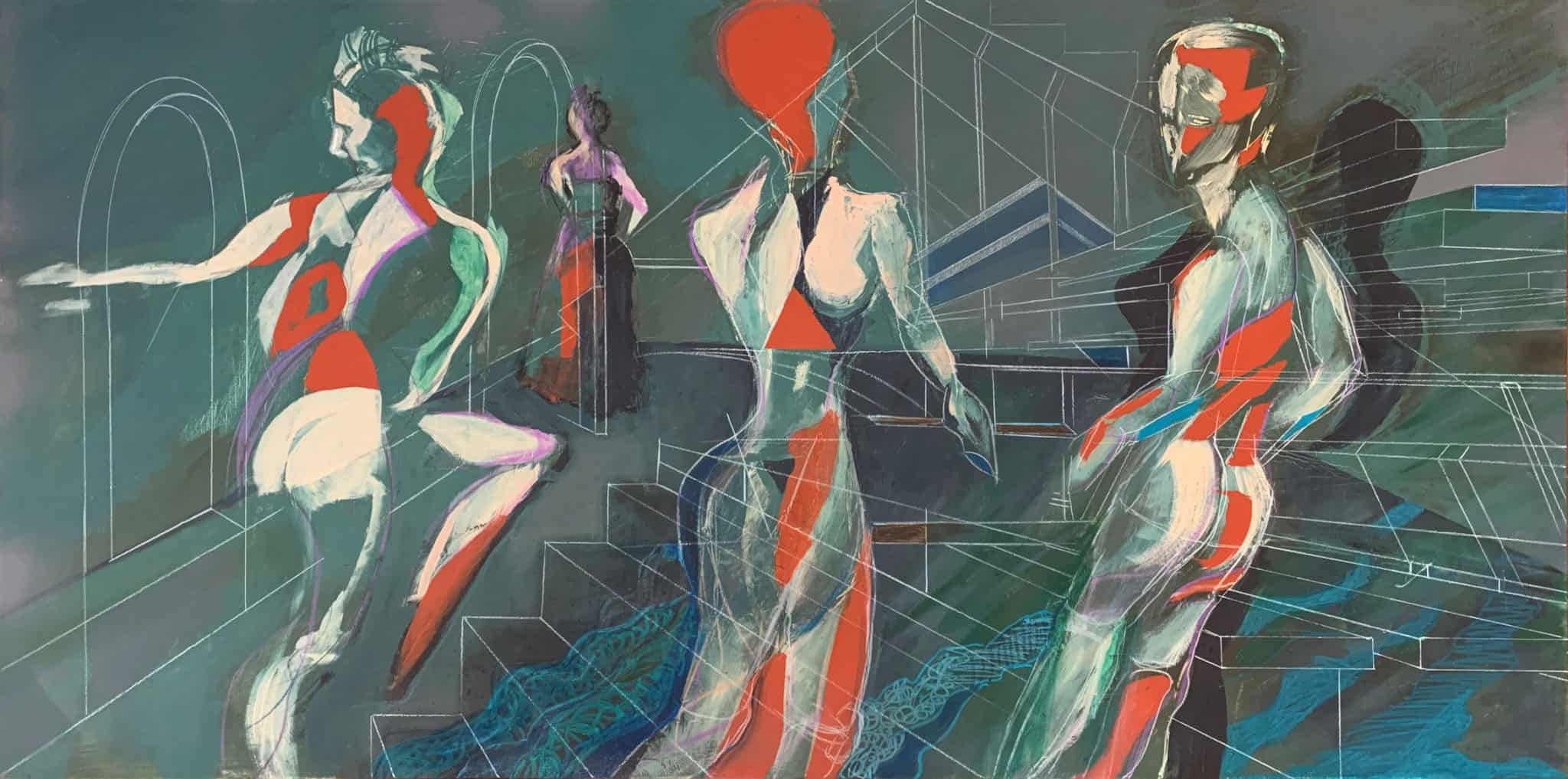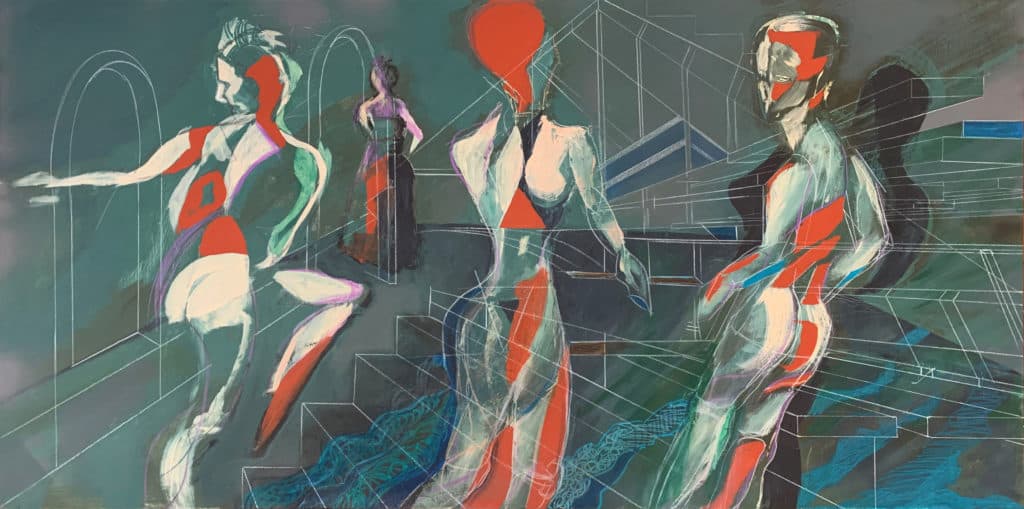 Perspectives, Abol Bahadori's series of abstract paintings inspired by the rediscovery of the perspective grid among Renaissance artists, is on view through July 3 in the Solo Gallery. Bahadori uses trapezoids and triangles generated by 3D grids as abstract planes to showcase colors to prismatic effect. He further enhances some of his compositions with realistic figures and illustrations—humans, animals, insects— that break the symmetry and change the focal point.
Farida Hughes: A Line Doesn't End With Me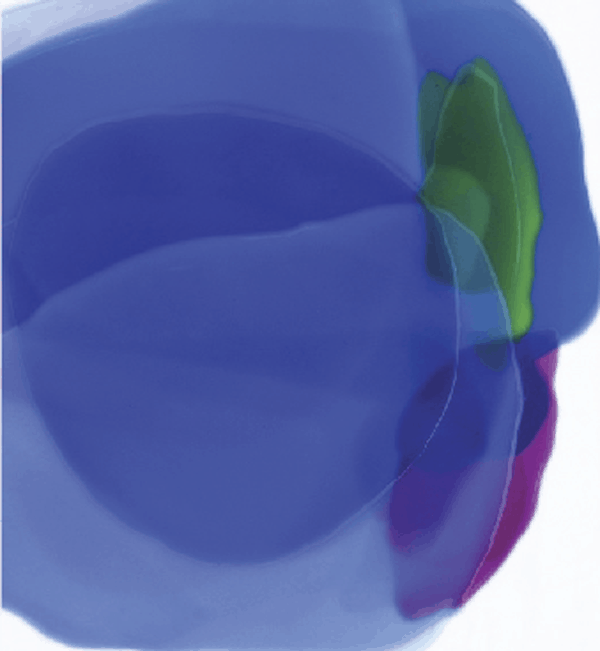 Farida Hughes uses stories and anecdotes she's collected as inspiration for the vibrant abstract paintings that make up her Blend series. These, as well as new Vigil paintings that serve as a reminder of lives lived and lost, can be seen in her new exhibit A Line Doesn't End With Me, on view at Athenaeum through August 8; 201 Prince Street, Alexandria, VA.
Jessie Gifford: Carving Color: West to East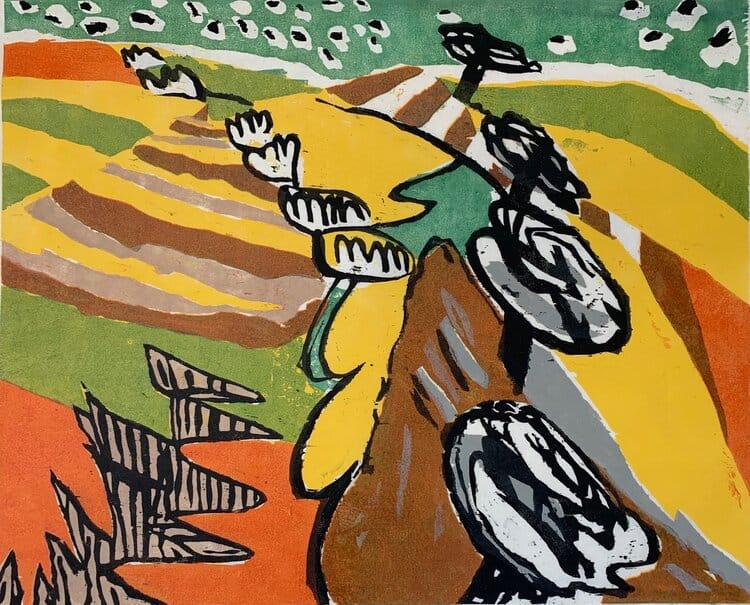 For more than six decades, Jessie Gifford's myriad artistic styles reflected her Nebraska past, in landscapes, color choices, the ubiquity of cows represented in her work. But her creative expression has also been informed by her many, many years as a New Yorker, which gives her work a certain gritty exuberance, a uniqueness born from her surroundings, her quirky imagination, and the many challenging circumstances she wrangled with throughout her life. Both locales are captured in Carving Color: West to East, on view in person at Washington Printmakers Gallery (WPG) through July 25, and online. A reception for the exhibit will be held on Saturday, July 10, from 3:00-5:00 p.m. at WPG; 1641 Wisconsin Avenue, NW.
Hot!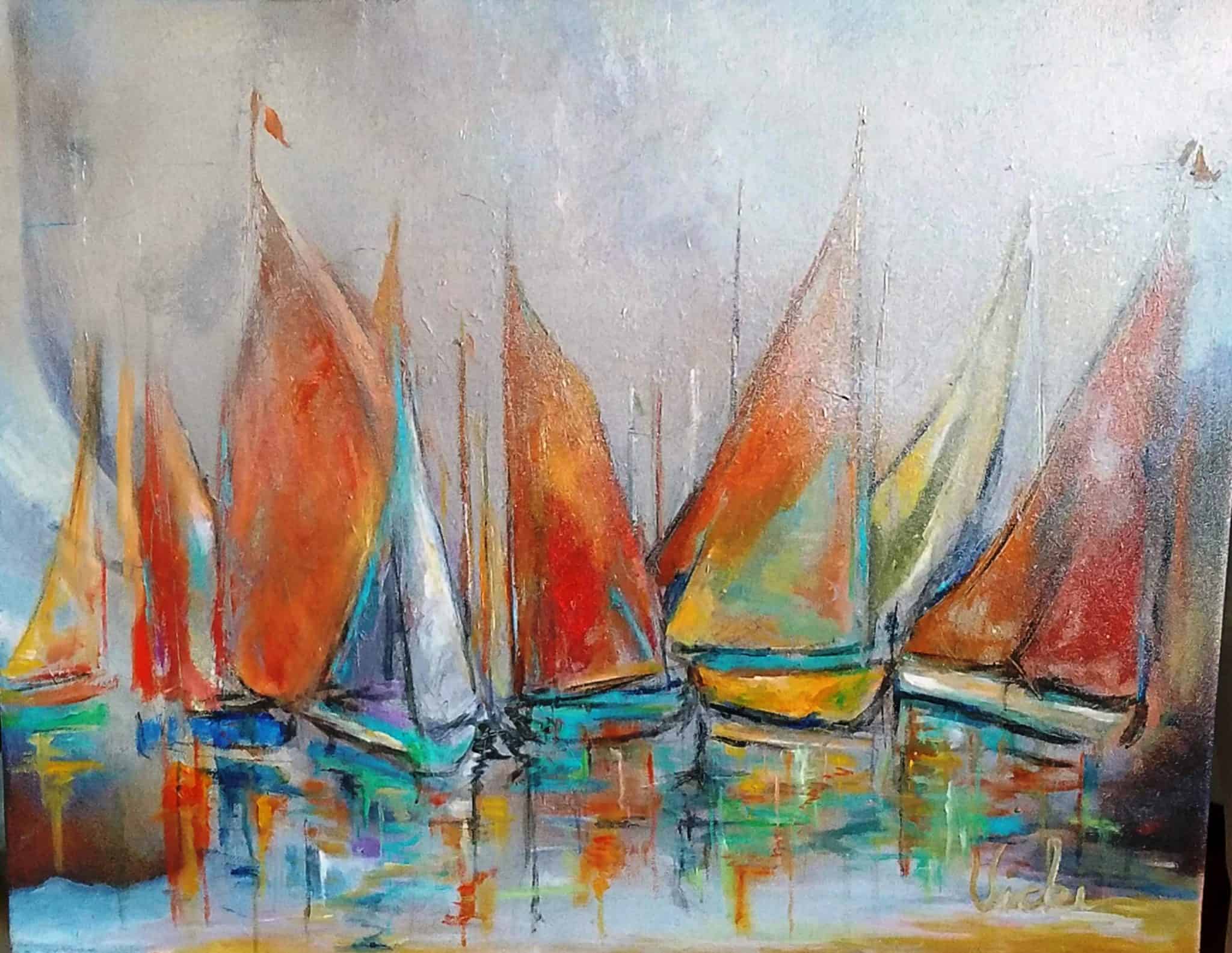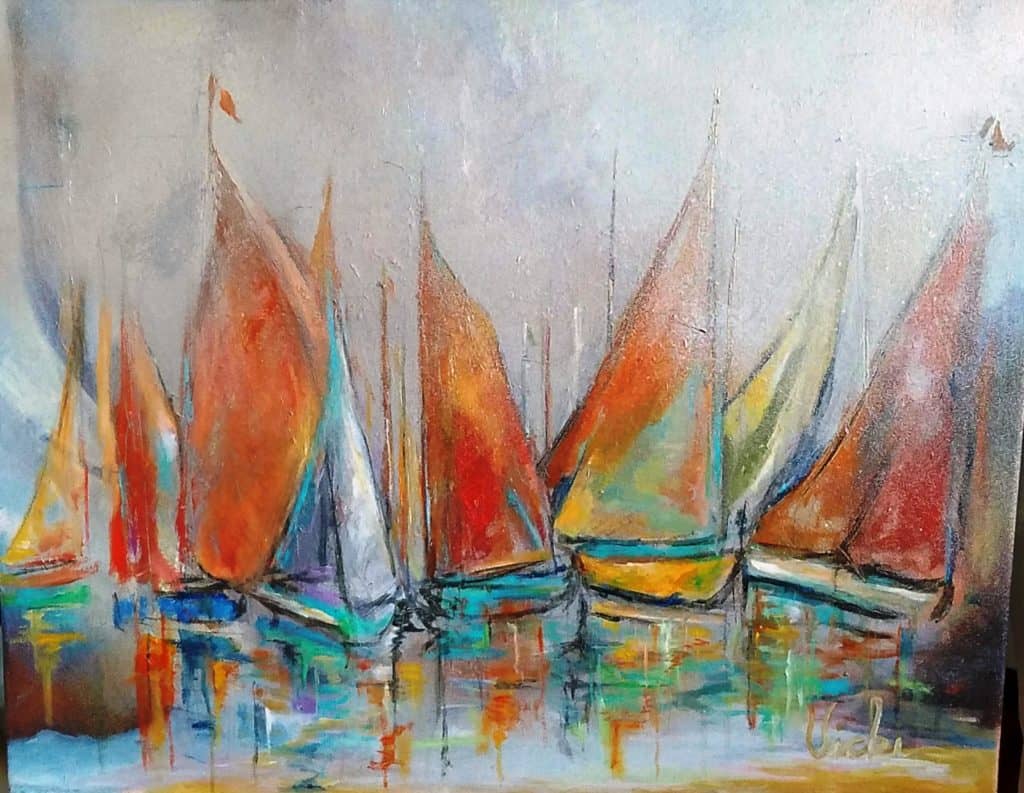 For the month of July Gallery Underground presents Hot!, an all-member show of works inspired by the steamy temperatures, scenes, colors and activities of summer. Works include summer sunsets, seascapes, depictions of summer gatherings, foods of summer and works in reds and orange hues; on view in the Focus Gallery, Crystal City Shops @ 2100 Crystal Drive, Arlington, VA.
Enjoy the long weekend!