By Julia Chance
Artist Jimmy James Greene utilizes exaggerated hues and striking designs in his paintings to weave narratives about Black people. In The Human Vibe: Patterned Portraits and Color, opening March 8 at The Art League Gallery, the emotions of his subjects are conveyed through subjective colors, while their concerns, conditions, or social constructs are referred to by immersive patterning. 
"I am a visual storyteller, a griot," says the New York-based artist who renders individuals realistically, then goes beyond what they look like to narrate what he calls "their internal and external vibrations."  In a piece titled Across Centuries and an Ocean, a young woman in flowing braids admires an African mask as bold diamond patterns in the background suggest an ancestral connection between the two. The young man depicted in Poker Face Aloof appears nonplussed, but the shapes comprising his face hint at underlying tension. The lush vining flora and pea pod patterns framing the woman in Snap Peas and Beans transforms a mundane act into a sacred act. 
"I respond to an image that I am intuitively attracted to–it could be a person's expression, the way they are lit, or an activity they're engaged in," Greene explains. 
The works on paper begin as pencil and pastel drawings that Greene later paints over using watercolors to create rich color and fluidity. Some of those paintings serve as studies for his larger acrylic-on-canvas pieces.
Here, Greene talks about his early masterpieces, the artists who inspire him, and what The Human Vibe is all about.
What was the first thing you created that you were particularly proud of?
The first work I felt proud of was a paint-by-numbers kit with clowns that I completed. I was about ten- years-old and enjoyed learning how to control a brush and combining small shapes into a finished work. It gave me a sense of accomplishment. The next piece that I was proud of was a four-foot by eight-foot tempera painting I did when I was 15. The vice principal of my junior high school let me paint instead of getting detention. It depicted the backdoor of a local wine store with lots of neighborhood characters in a style similar to the Ernie Barnes painting The Sugar Shack that appeared during the end credits roll on the '70s sitcom Good Times. It won an award at the school's art show that year.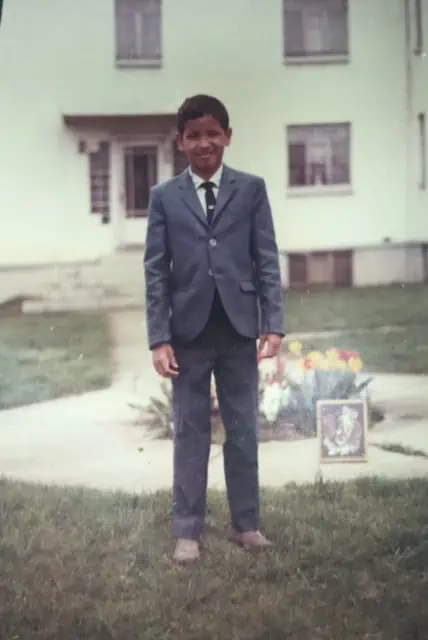 When did you know that you were an artist?
I felt that I was an artist since third grade because I drew well and my family, friends, and teachers always said I was one.
Talk about your art education. Did you attend art school?
I got serious about art in high school where I had a friend who also loved painting. Our art teacher was a great influence on us. I majored in art when I went to college, but stopped my academic studies to work as an apprentice for Jon Onye Lockard, a noted muralist based in Ann Arbor, Michigan, for several years. It was a great hands-on experience that also informed and reinforced my outlook as an African American artist. I returned to college at the Rhode Island School of Design (RISD) and majored in illustration. Upon graduation, I spent a semester in Howard University's graduate art program before moving to New York.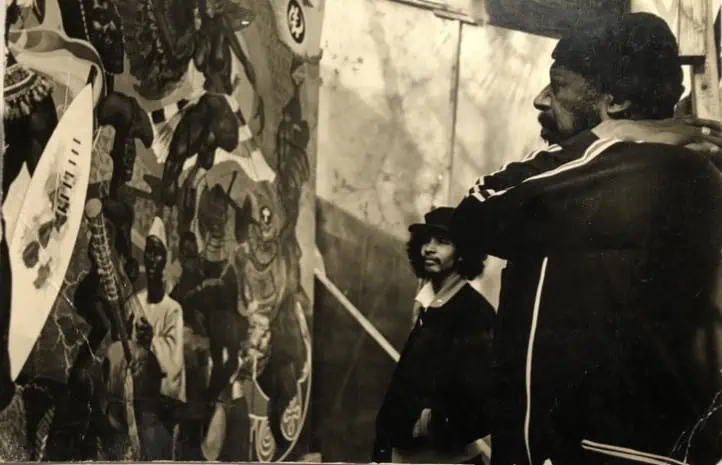 Describe your art.
My work is narrative. It is figurative and rooted in the African American visual arts tradition.
What ideas or questions drive your artistry?
I am driven by two goals: the challenge of effectively and creatively using materials, and communicating an idea through an image in a provocative and impactful way.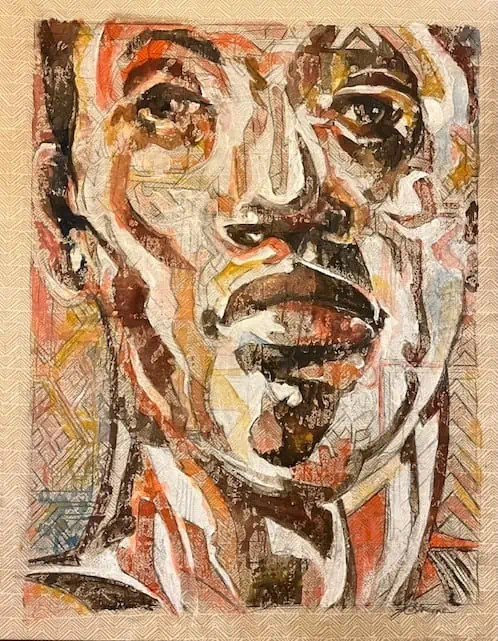 What artists inspire you? 
One of my first inspirations was Picasso–both his synthetic and analytical cubism. Also Romare Bearden's collages which are informed by his abstract paintings. They both use figurative images as a starting point for their artistic interpretations.
Describe your process.
My work usually begins with a spark that might be an image, an idea, or reaction to a piece of art. The next step is sketches or studies which lead to a finished piece.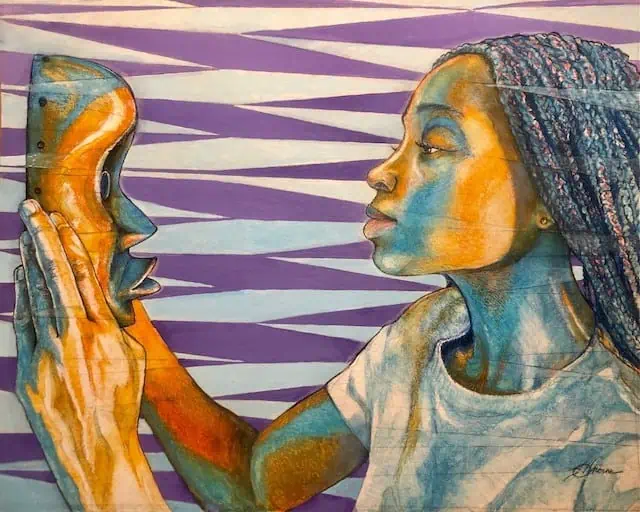 What is The Human Vibe about?
This body of work is based on the merging of three approaches I have used previously: my "People of Color" series where subjective colors are applied on figurative forms; phone doodles, or the digital manipulation of images I create on my iPhone; and pattern immersion, where background patterns overlap into the foreground. My original intent was exploring a middle ground between abstraction and representation. This objective has remained consistent.
What do you hope viewers glean from The Human Vibe?
I hope that viewers can see that a portrait can work on several levels to communicate ideas about its subject. I use colors to express an emotional state and use patterns to imply a social construct or elements in the subject's life.
What are you working on now?
Currently I am continuing in the same vein but trying to move more towards abstraction. I also look forward to working in mediums that I set aside while working on this show like stained glass mosaics and printmaking. There are also two unfinished projects that I'd like to get back to. One is The Life of Christ, a series of collages I began as an undergrad at RISD. It was my senior project. The other is a mixed media series based on playwright August Wilson's Century Cycle.
Three of Greene's must-have items when making art: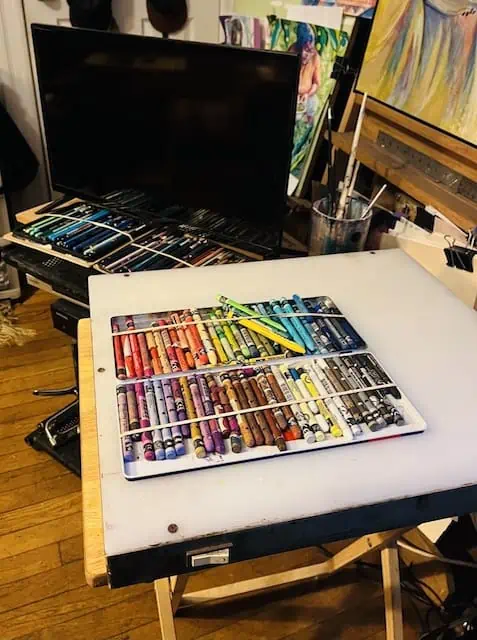 A light table, Carnan d'Ache water soluble crayons and pencils, and TV.
"The Human Vibe: Patterned Portraits and Color" is on view through April 2.