By Julia Chance
If it seems like the cheerfully colored, large-scale paintings in Khalid Alaani's solo exhibit The Enemy are in conflict with its title, that's exactly the point. The Iraq native is making a statement about how ordinary Iraqis were perceived once the United States invaded his homeland twenty years ago. 
Rather than depict the brutality and suffering of war, Alaani chooses to humanize his countrymen and women by focusing on their lives moments before bombs were dropped and missiles were launched—be it a woman in her garden, children at play, a new bride, or his once vibrant hometown.
"Those humans are not aliens. I know them, I feel them, they are a part of me," says Alaani, who lost family and friends during this tragic period. "I tell their stories. I'm painting their days, their destinies, and their endings."
Here Alaani, a pharmacist by profession, talks about his artistic journey, the argument that inspired The Enemy, and what he hopes viewers glean from his exhibit.
What was the first artwork you created that you were particularly proud of?
When I was in kindergarten a teacher came to the playground and asked if anybody wanted to go to the studio to draw. I said I'd like to, and went with two other kids. I used white pastel on black paper to draw a palm tree and a house. I looked at the drawing of a girl sitting nearby and realized that my drawing was prettier than hers. I felt proud of my drawing. 
When did you know that you were an artist?
After my third exhibition I became more confident in my artwork and started to believe I am an artist. 
Did you study art in school?
I consider myself a self-taught artist even though I studied with two art teachers for about two years. With one instructor I studied realistic oil painting and water color with the other.
Throughout elementary, middle, and high school I was lucky to have teachers who took art education seriously. In elementary school I had a very good teacher who encouraged me to draw and always gave me good feedback. In middle and high school we had very good art classes where I started doing modern art and studied advertising, perspective, furniture design, and ceramics.
Family support played an important role, too. I was born into a family that loves art, and my parents encouraged and supported [my creativity]. When I was probably 12, I did a drawing and my dad hung it on the wall. It made me feel proud to have made something worth looking at.
Describe your art.
I do figurative contemporary expressionism. Most of my work is human–centered. Cities and their inhabitants are my main focus. I use acrylic mostly with some pastel, chalk, collage, and other media on canvas. I also do landscape paintings because I love nature and enjoy painting trees, houses, rivers, and lakes. 


What ideas or questions drive your artwork?
My paintings are a reflection of memories, stories that I've heard, hopes, emotions, opinions about life, how I see things, and how people, places, and things affect me. It could be animals, birds, a blue sky on a sunny day, white clouds, the sound of rain, a delightful chat with a friend, a beautiful girl with pretty hair. The colors that I pick, the empty spaces inside my paintings, the brush strokes, the hard scratches or thin lines convey what I feel; a way of saying all that I want to say without uttering a word.
Describe your creative process.
I have more than one way of painting. Sometimes I have an image of the general thing that I want to do and I start with it. Whether I will finish it and do what exactly I started with, or explore something else and proceed depends on many factors, but most importantly the appealing result or satisfaction. Sometimes I start by just putting colors and lines on canvas and letting my eyes see and analyze things. That helps in the flow of my memories and my ideas. I don't know which way is better, but I'm enjoying both ways. And I believe if I am enjoying what I'm doing, if I'm totally honest about what I'm saying, people can see and feel that.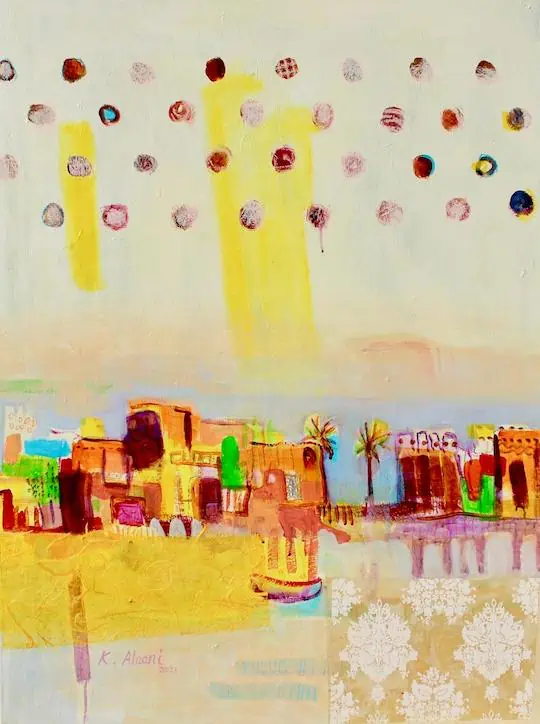 The Enemy, the title of your exhibit, is provocative. What is it about?
My exhibition is about the occupation of my home country Iraq. In 2003, I was doing well in my profession and hoping to become a well-known artist. But the invasion of Iraq changed my life, as well as the lives of millions of other Iraqis simply because we lived there at that time.
From the inception of my exhibit I decided not to show images of war, but rather depict people living their lives before catastrophe hit them in the form of bullets, bombs, and missiles that destroyed their houses, their cities, their lives, and their dreams. 
Enemy is the word that politicians use to justify their evil act. I am showing who those "enemies" were: a bride; a happy guy who just graduated; a baby boy playing soccer in the streets.
What inspired you to take on this topic?
Actually, I thought about war against Iraq for so many years but I've always felt that this topic is so heavy for me. It's more than I can process. It is a responsibility. But in 2020, I had an argument with a guy I worked with about war. He believed that some wars are good if it means getting rid of dictators or leads to the change of a bad regime.
My friend Aziz was lost in this war. My cousin and her two daughters were killed, as was another friend days before his wedding. I don't get how someone can justify all the catastrophe and lives lost! I can't understand that.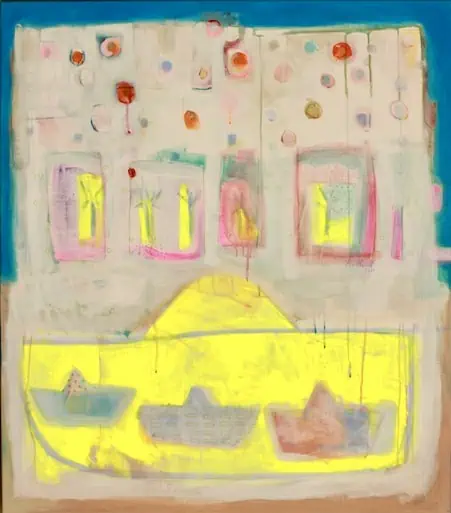 What do you hope viewers glean from your exhibit?
I want viewers to enjoy the paintings. That's the most important part for me. If they glean what the paintings represent that would be great, too. I, of course, am not the first artist to condemn war and evil, but what really matters are the details and the way I have presented my thoughts.
What is next for you?
I started preparing for a show at Sandy Spring Museum in Maryland this November. I also have a project  with other Iraqi artists. We did a show together 11 years ago in Los Angeles and will gather again in an exhibit in a gallery in Istanbul next year.
Three of Alaani's must-have items when making art: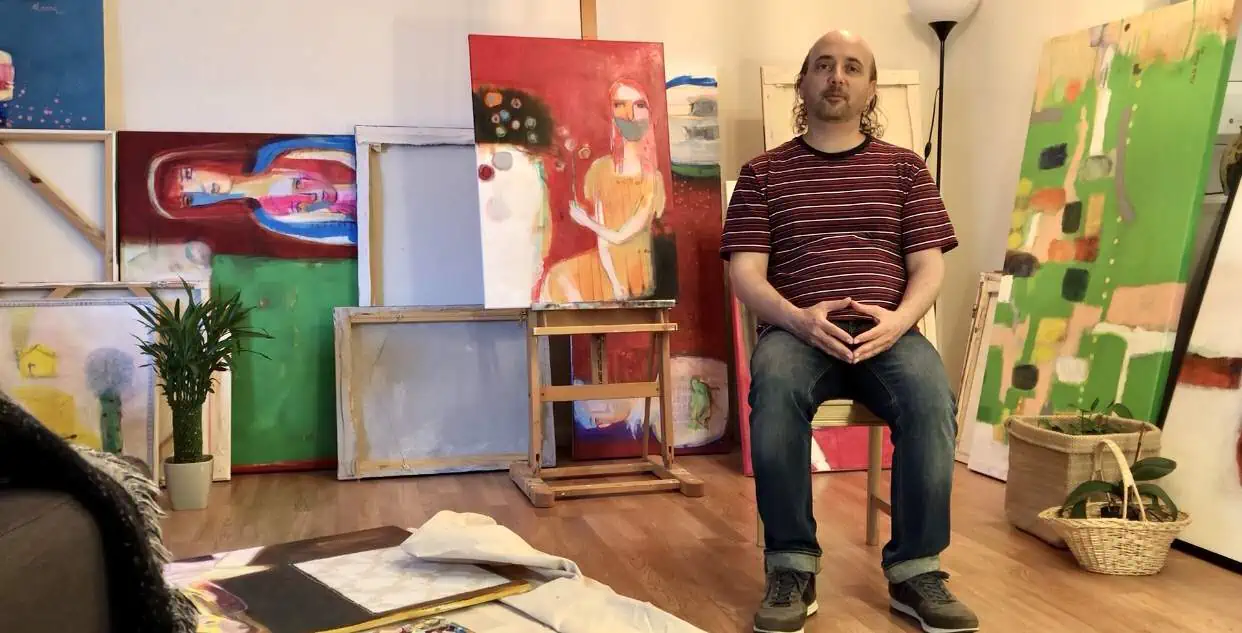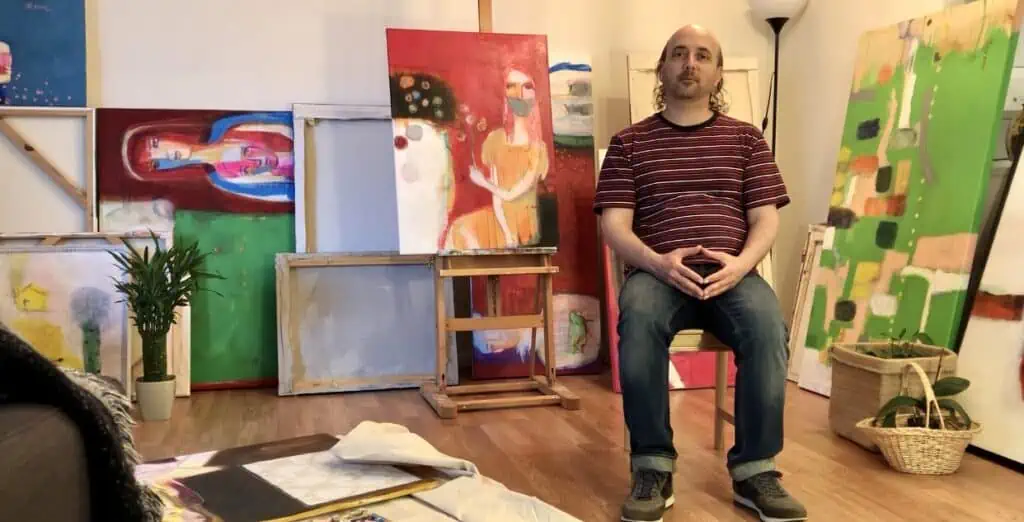 "Music—especially Arabic music—wine, and a good mood!"