Welcome to Artful Weekend
-our listing of area art exhibits and events-
This weekend: September Open Exhibit and Intersections by Rifat Taher at the League; Farther Afield at Del Ray Artisans Gallery; Crushed, Scraped and Salvaged  at Bethesda Fine Arts; and Epicenter at Pazo Fine Art.
September Open Exhibit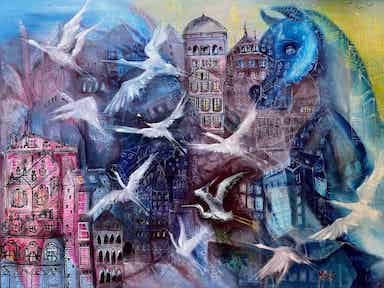 Diverse artworks by member artists are the feature of Open Exhibits at The Art League. This month, 112 artworks—painting, drawing, photography, mixed media, sculpture, and more—are on view. The September Open Exhibit was juried by photographer Regina DeLuise. It is on view through October 8
Intersections by Rifat S. Taher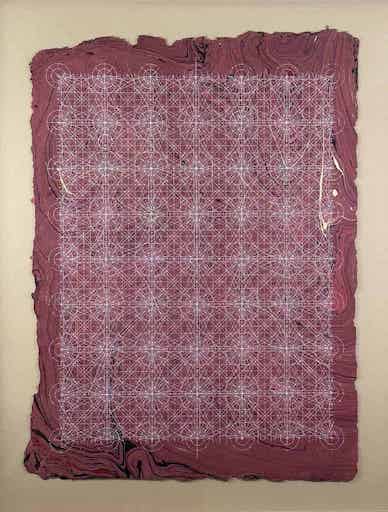 In her solo exhibition Intersections, artist Rifat S. Taher explores geometric forms using a variety of mediums inspired by traditional Islamic art and architecture. Her works are an exploration of patterns focusing on the underlying grid, mathematical order, and the contemplative nature of geometry. Through meticulous repetition, and spatial constructs, Taher draws on the timeless relevance of these forms and the wisdom of traditional art through her creative process.
Farther Afield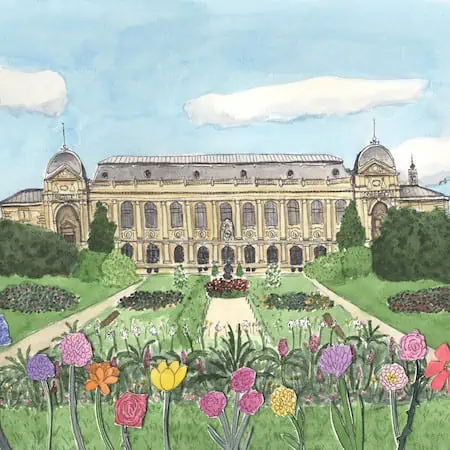 Art allows the viewer to travel and experience new sights without leaving home. Farther Afield, at Del Ray Artisans Gallery, takes this notion literally by celebrating artwork that takes us outside of our day-to-day lives to locations far and wide. Whether depicting a scene from a day trip or from halfway across the world, these artworks transport the viewer away from Alexandria to new cities, states, countries, and continents. Farther Afield is on view through September 30; 2704 Mount Vernon Avenue, Alexandria, Virginia.
Crushed, Scraped and Salvaged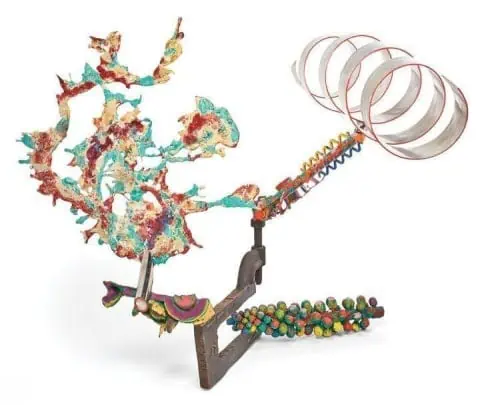 This exhibition presents an unexpected grouping of artists—Louise Nevelson, Armand Pierre Fernandez, John Chamberlain, Nancy Graves, Robert Rauschenberg, Carroll Sockwell—united by their transformative use of found objects in their artistic practice. Bethesda Fine Art is proud to bring together these major artists — of varying ethnicities and gender — who salvaged items such as scrap metal, wood, discarded tools, old newspapers or everyday objects from their environment and gave rise to expressionist reliefs and sculptures known as "assemblage art." Crushed, Scraped and Salvaged is on view through October 31; 4931 Cordell Avenue, Bethesda, Maryland.
Epicenter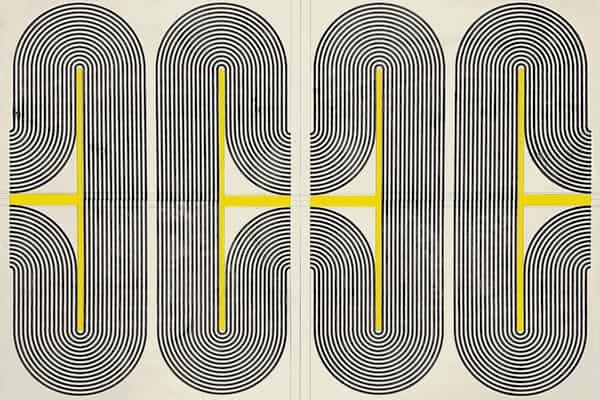 Pazo Fine Art (PFA) is pleased to announce Epicenter, an exhibition of works by Sue Crawford, Elise Ferguson, and Richard Tinkler. These three artists offer a different perspective of abstraction through the intricacy of their compositions and personal use of color. This exhibition launches PFA-Washington D.C.'s new gallery space and a second location. It's on view through November 2;  1932 9th Street NW, #C102,  Washington, D.C. (enter from 9 1/2 Street). Join PFA for an opening reception Saturday, September 16, from 6 to 8 PM.
Enjoy the weekend!