Our December solo artist talks about her inspiration and process for Homestead Elegy.
by Julia Chance
When painter Cindi Lewis saw photos of an old family homestead taken by her husband and son during an genealogical research trip to North Dakota, she was struck by what they revealed: a long-abandoned house that contained a profusion of furniture, appliances, clothing, and personal items from bygone decades. That was the inspiration for Homestead Elegy, her solo exhibit at The Art League Gallery.
The house that Lewis depicts was built by her husband's great-grandfather, a German immigrant, in the 19th century and was once home to three generations. Lewis visited the property a year after her husband's and son's trip and was amazed by what she saw. "It was still fully if idiosyncratically, furnished," she recalls "and there was a vast array of stuff," including dozens of white trash bags of unknown contents; pots, pans, and dishes; cardboard boxes; magazines; overalls; lumber; food and medicine containers; shoes; papers; playing cards; and enormous quantities of firewood throughout the house. Lewis relished it all.
"I often enjoy getting into a fair level of detail in my work, as can be seen in the Homestead Elegy interiors," she says.
Her warm, gouache renderings of the home's chaos become a game of seek–and–find, compelling viewers to identify the various items that abound. Whether the accumulations of belongings were a reaction to Depression-era privation, physical frailty brought on by age, or something else, her perspective is a touching glimpse of a rugged way of life and a striking contrast with the spare beauty of the surrounding North Dakota landscape.
During her recent artist talk, the Columbia, Missouri native and Art League Board of Directors secretary spoke about her art, creative process, and what fascinated her about the house she captured. Here is an excerpt of what she shared.
What was the first thing you created that you were particularly proud of?  
I don't remember the first thing, but when I was in junior high school I made a large piece of chocolate meringue pie out of paper mache. I thought that was pretty cool!
When did you know that you were an artist? 
I've loved drawing and painting forever, though there have been long stretches when I was in college and law school, and then practicing law when I didn't do much artwork. Later I cut back the hours that I worked at the law firm so that I'd have more time for other things, including art, and my artwork has been a major aspect of my subsequent retirement. My art education has been primarily through classes and workshops at The Art League.
Describe your artwork. 
My work is representational, primarily in oils, watercolors, and gouache, though I have also been doing some printmaking in recent years. My subject matter tends to be landscapes and some figurative work.
What is your process for making art? 
I work primarily from photos though I enjoy plein air painting when conditions permit. I usually do a quick pencil or pen sketch to set up the composition; because of the complexity of some of the Homestead Elegy pieces, I did more detailed drawings than usual before I started the paintings. Then it's a matter of adding and adjusting the color and details.
What are the ideas or questions that drive your artwork?
I'm generally driven by seeing particular scenes or images that catch my eye and demand to be painted.
What is Homestead Elegy about? 
It depicts a homestead in North Dakota that was inhabited by three generations of the original homesteader's family. My husband's father was one of the youngest of the third generation. The house had an oil heater, a wood stove, a water pump in the kitchen, no phone, and no indoor plumbing. After the last of the family members died or moved away and the house fell into disrepair, it remained full of a haphazard collection of their belongings, which provided a poignant—and sometimes amusing—view into the lives of the people who lived there.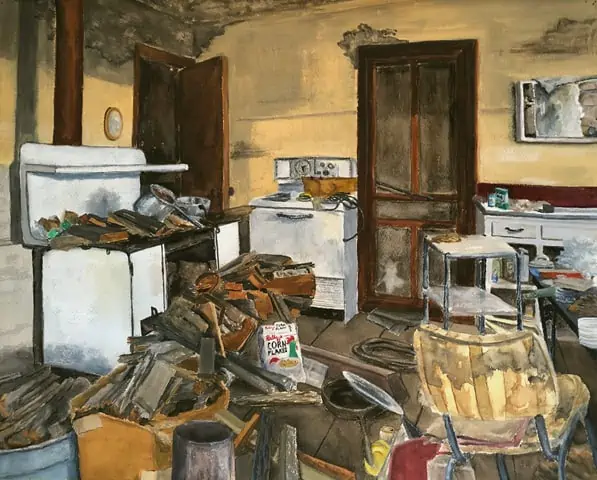 Did you sketch or photograph the settings you painted? 
My husband, son, and I all took numerous photos, and I did detailed sketches of the specific settings that I painted.
Did you have any trepidation about entering a structure that has been abandoned for such a long time? 
Funny you should ask. We curtailed our explorations after the living room floor gave way and deposited my husband in the root cellar. Fortunately, he wasn't badly hurt.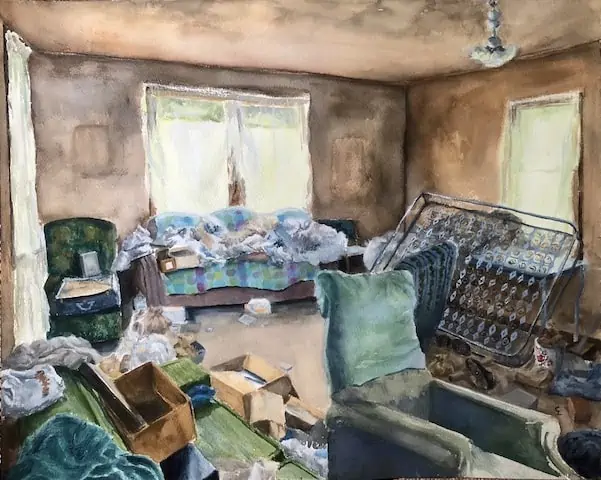 You proposed this exhibit two years ago. Has it changed much from what you initially submitted?  
No. I was fascinated by the house and the former inhabitants' belongings—and by the contrast between the somewhat claustrophobic house and the wide-open North Dakota landscape where it's located—so I continued with my original plan.
What do you hope viewers glean from Homestead Elegy? 
I can only speak for myself but I came away with a profound respect for the challenges and hardships faced by the family who lived there and others like them.
Homestead Elegy is on view through January 8, 2023.