Welcome to Artful Weekend
-our listing of area art exhibits and events-
This weekend: Heart's Desire at the League; RINGGOLD | SAAR: Meeting on the Matrix at David C. Driskell Center; Ghost Count at Cody Gallery; and A SKY OF SHATTERED GLASS REFLECTED BY THE SHINING SUN at Culture House.
Heart's Desire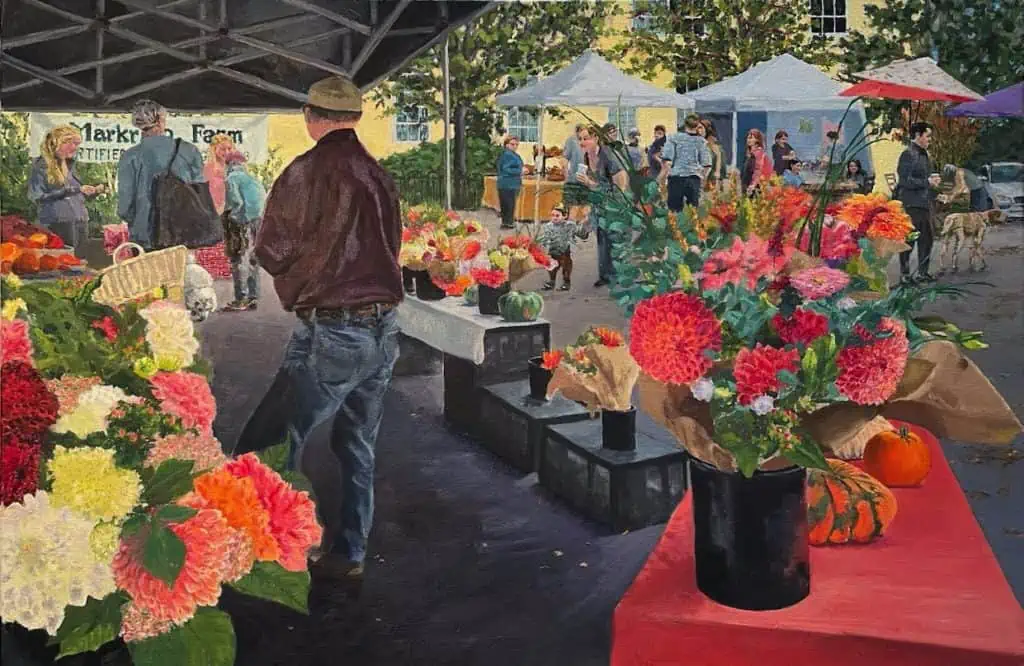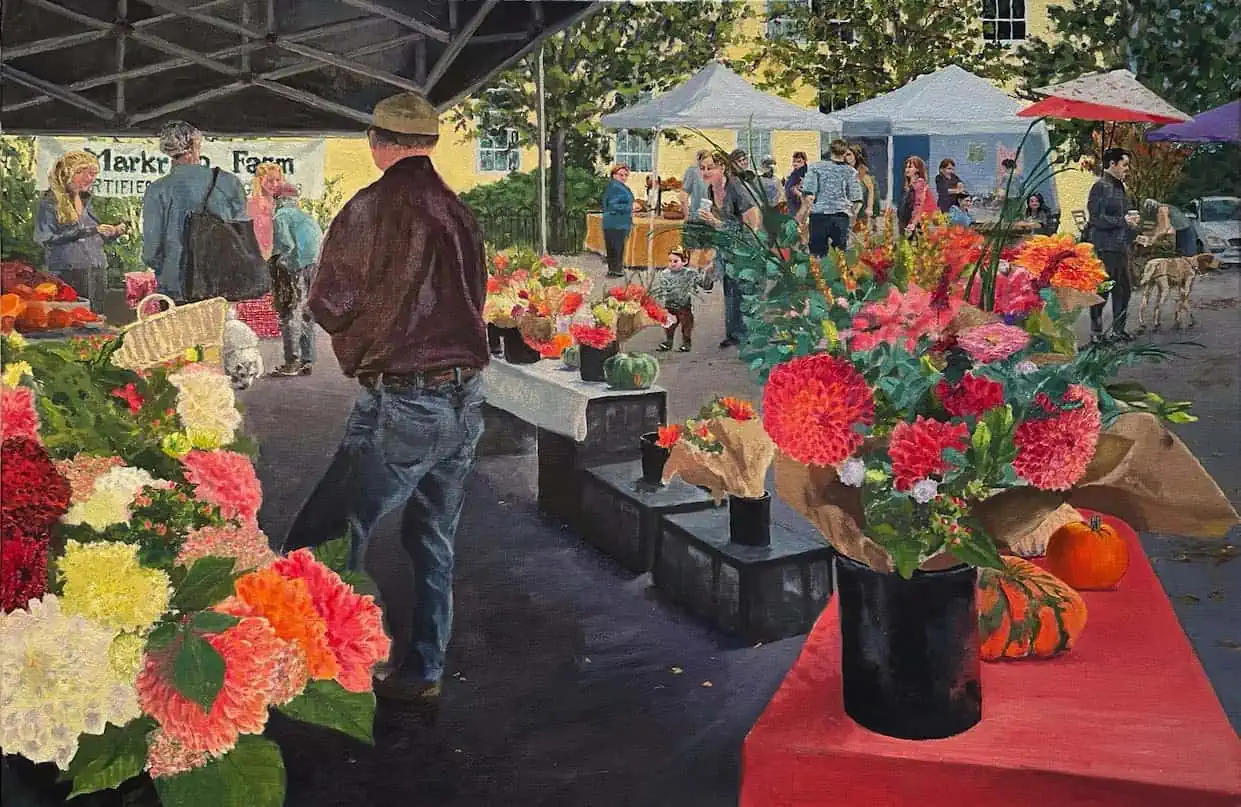 Merriam-Webster defines heart's desire as "something someone wants very much". In Heart's Desire, our first member exhibit of 2023, longing is interpreted in myriad ways. From the romantic and pleasurable to the philosophical and political, Heart's Desire features 151 artworks in oil, acrylic, watercolor, ceramic, photography, printmaking and more. It was juried by Allyson Vieira, a sculptor and Assistant Professor of Foundations at the Corcoran School of Art at the George Washington University in Washington, D.C.
This months Best-in-Show Award winner:
Picking out the perfect flower arrangement in late summer. By Tish Tyson; Oil
Honorable mentions:
The Cocktail Party by Linda Bankerd; Acrylic
Miss Statement by Andrea Barrett; Mixed media
Glimmer by Amber DeCicco; Mixed media
Lots of Pez by Barry Dunn; Photography
Waiting by Timothy Felker; Oil
At the Salon by Sharon Frey; Acrylic
Bridal Shop by Willa Friedman; Photography, archival inkjet print
Let the Vacation Begin! By Angela Lacy; Watercolor
Romantic Memory by Liz Santulli; Collage on wood panel
Intimate Escape (with apologies to Eadweard Muybridge) by Elizabeth Matthews; Oil triptych on canvas
La Dolce Vita by Monzen Tzen; Palette knife, oil stick, and oil on canvas
Heart's Desire is on view through January 29.
RINGGOLD | SAAR: Meeting on the Matrix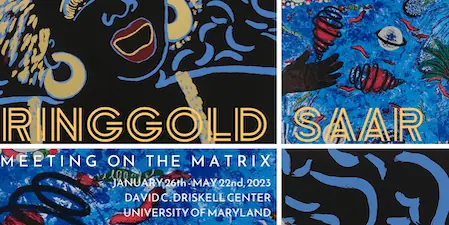 For decades, Faith Ringgold and Betye Saar have incorporated printmaking as a vital component of their multidisciplinary practices, yet their mutual connection to printmaking remains under-recognized. RINGGOLD | SAAR: Meeting on the Matrix, at the David C. Driskell Center, highlights the print work of these two landmark artists, providing a window into the material and conceptual explorations at play in their distinct practices. Both artists have uniquely utilized the matrix—the printmaking surface which transfers ink onto paper or fabric—as a site of possibilities for experimentation, storytelling, and activism. RINGGOLD | SAAR: Meeting on the Matrix places the prints of these two artists in thematic and formal conversation to cast each other's work in a new, dynamic light while simultaneously emphasizing the singular power of each artist's contributions to the medium. It is on view through May; 1214 Cole Student Activities Building, University of Maryland, College Park, Maryland.
Ghost Count by Amanda Burnham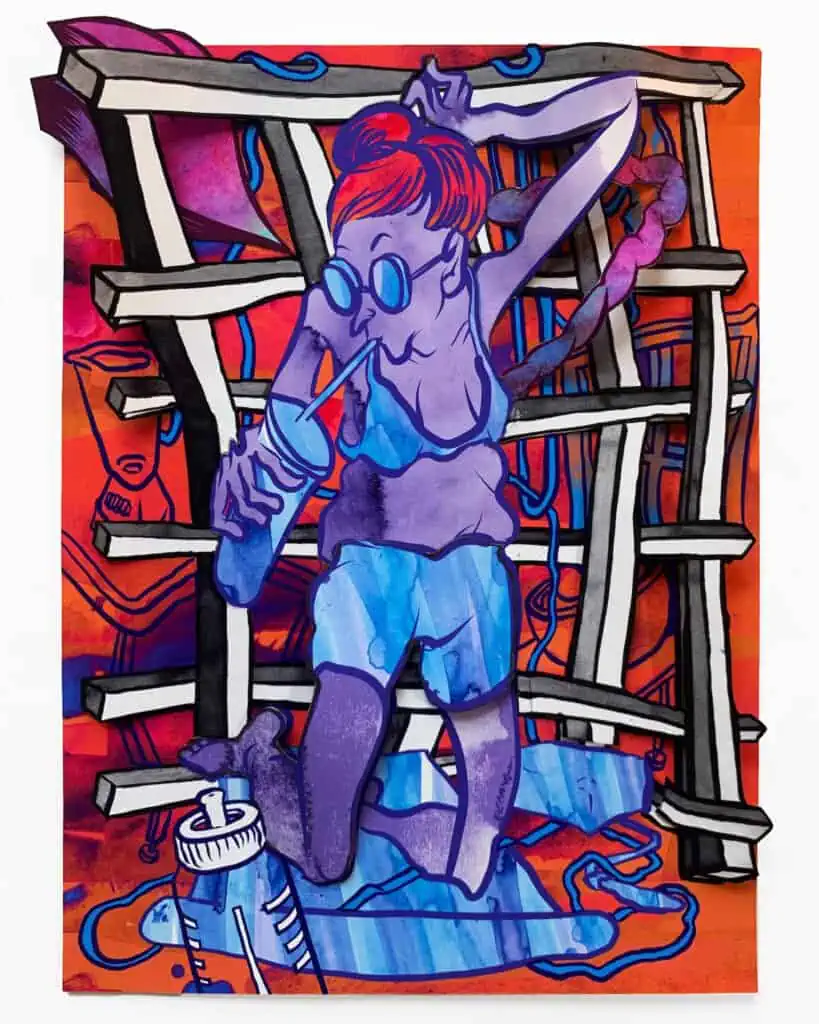 In magic, a "ghost count" is the name of a technique for hiding a particular card. Much like a card trick, the works in Amanda Burnham's Ghost Count rely on misdirection: competing fragmentary images muscle to the surface, at times cancelling each other out, distracting from, or defying their sublimated narratives. Exuberant, manic line and color mask darker undercurrents. Ghost Count is on view at Marymount University's Cody Gallery through February 26. Come for the opening reception Friday, January 27, 6 – 8 pm. The Gallery is located at 2807 North Glebe Road, Arlington, Virginia.
A SKY OF SHATTERED GLASS REFLECTED BY THE SHINING SUN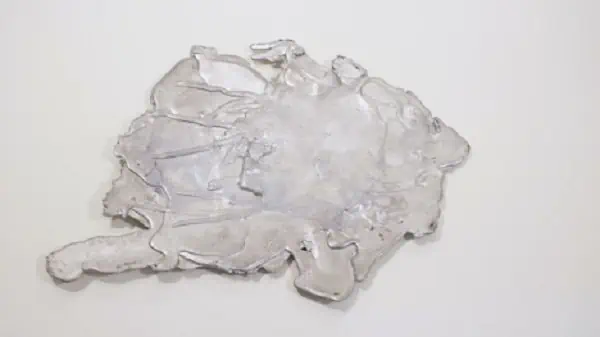 D.C.-based artist Stephanie Mercedes employs sound, drawings, motors, metal casting, and a series of installations to express the vulnerability of the queer body in A SKY OF SHATTERED GLASS REFLECTED BY THE SHINING SUN. It is on view through February 25, at Culture House, 700 Delaware Avenue, NW, Washington, D.C. Join the gallery for an opening reception Friday, January 27, 6– 8 pm.
Enjoy the weekend!