In the spirit of "Those that understand, teach." (Aristotle), our instructors speak about their artistry and the courses they teach.
At what age did you first suspect that you were an artist?
When I was a little girl I had a lot of very active dreams that were disturbing to me. My father would get up, provide me with my art supplies, and I would start drawing. I wouldn't say I knew I was an artist back then, but that was the beginning of my identity—who I was and what I needed creatively.
What did you study, or get your degree in?
My B.F.A. is from Boston University's College of Fine Arts and my M.F.A. is from Indiana University Bloomington where I studied with painters Robert Barnes and Barry Gealt. I also studied for two years in Rome and garnered a Fulbright grant to study painting for two years in Madrid. Those experiences were invaluable to my development as a painter.
Describe your work process.
I work through my feelings with my artwork. I recommend it to everybody. It's a healthy way to live because you get to process what's going on. I've always worked with people, but I haven't in the last few years. I get a lot of nourishment from people and their stories, struggles, and passion. Previously, I would do a lot of drawings to get to know my subject physically and personally, and then I would make paintings from observation. Now I just work from the drawings. It gives me structure and a sense of form. And then my color can just be itself. I'm using color more emotively and less naturalistically. There is a naturalism to it anyway—an illusionistic space. That's been a great turning point in the last few years for me.
You teach Gesture Drawing with a Model, a nine-session course that begins September 19. What does working with the figure gain?
Gesture drawing from the model is about movement. Movement is made by expressing the weight and balance of the figure. Often exaggeration is needed to convey these expressions. That's when the fun comes in. One needs to have gesture in their own body to draw, to work from the shoulder, not the wrist. 
Still-life, called dead life in European languages, is still and inanimate. Humans are not! The energy and individualism each model shares are a wonderful gift to the drawer. Each model has different poses that express their personality. Students get to start with this and bring their responses to the drawing they make.
Why practice gesture?
Gesture drawing allows students to let go, take risks, and experiment. Each drawing is short—thirty seconds to thirty minutes, no more. Then on to the next. It is helpful when working on longer drawings, giving students the confidence to make changes.
What is the benefit of drawing from life?
Drawing or painting from life is a very different challenge than working from a photograph. When something is three-dimensional and one has to translate that into two-dimensional. The work is different. One has to see, imagine, and interpret space. 
Why draw from life rather than a photograph?
With a photo, people start to copy instead of understanding how to see, imagine, and interpret space. Once a person gets highly skilled, photos can be helpful as resources. People I know who use them use many, taking bits and pieces [from them for reference]. Or they make many drawings, getting further away from photos before they begin a painting. Each process helps the painter make their own image as opposed to copying a photo.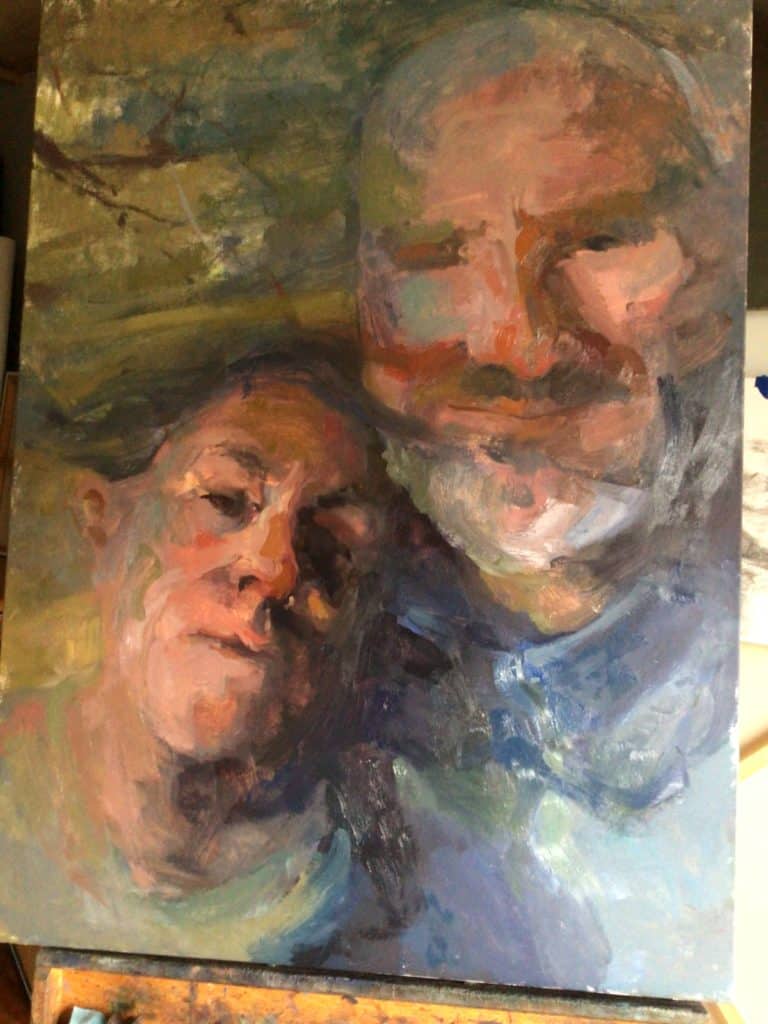 You created and teach the course Foundation Painting. Describe what it is about.  
Foundation Painting is a structured course about color. It really explores how color shapes relate to each other and how they change depending on context. It's a 9-week course with a series of challenging exercises. Each of these has a limited palette with a still life that doesn't line up with that palette. The smaller range of colors is easier to absorb and understand. And the still life that doesn't correlate to the palette forces students to have to think about the qualities of those colors and how they represent space in the painting.
Three major ideas that we talk about are temperature, saturation, and value. Temperature is warm and cool, intensity has to do with the saturation or weakness of a color, and value is simply light and dark. Value exists in drawing, but the other elements are unique dimensions of color.
 For example, one of the exercises is without white. It's cadmium red, cadmium yellow, and ultramarine blue. This is an exercise about how to create value with color, not just light and dark. If you're representing something white, which is cooler than yellow, how do you manipulate color choices and how does that reflect spatially on the canvas? Painting requires enormous amounts of observation and learning how shapes and color create space. What you begin to do, as you learn, is you start to make things believable even though they aren't accurate. That's the goal: creating things that are not of this earth (but are completely true in our imaginations) and making­­ them believable on the canvas.
Who is Foundation Painting for?
The lessons are open and broad enough to be available for any level. I do the exercises to inform myself every so often, and they're not easy! But they are accessible—no matter where you are you will be challenged with what you need. That's how these lessons are structured.
A lot of schools and teachers do not give this structured idea about color and applications. But what I've learned is that you can't just teach a theory class. It's like learning how to drive in your living room, it's not going to work. You've got to do it. On the other hand, if you're just doing something without the concepts explained to you it's hit or miss, possibly forever. So it's a really intentional combination of theory and practice that I pull together.
Do you make art— sketch, paint, or create something—every day?
I paint or draw most days. It helps me understand the world and myself. It makes form out of feelings that I can separate from, then move on. I love it!
What are the questions or ideas that drive your artwork?
The conflict between creating life (having children) and creating artifice (painting) and making them work together in my life has been a huge subject. Bringing life into this world requires expending enormous energy to nourish a child. The act of painting, on the other hand, is self-nourishment. Together they create a struggle that is worth having. 
What artists, contemporary or past, inspire you? Why?
Degas, Lucian Freud, and Philip Guston are three remarkable painters who all have something in common: they grew artistically, and they didn't relent. Guston was lambasted [when he went in another direction] during the height of his success, but that period became his most recognizable. I admire their work, but I really admire their willingness to put things on the line and be true to their artistic development and have the backbone to do it. That's exciting to me.
What has this period of pandemic been like for your creativity?
It's been very focused and grounding. Painting is clarifying for me, and it gives me an account of where I am.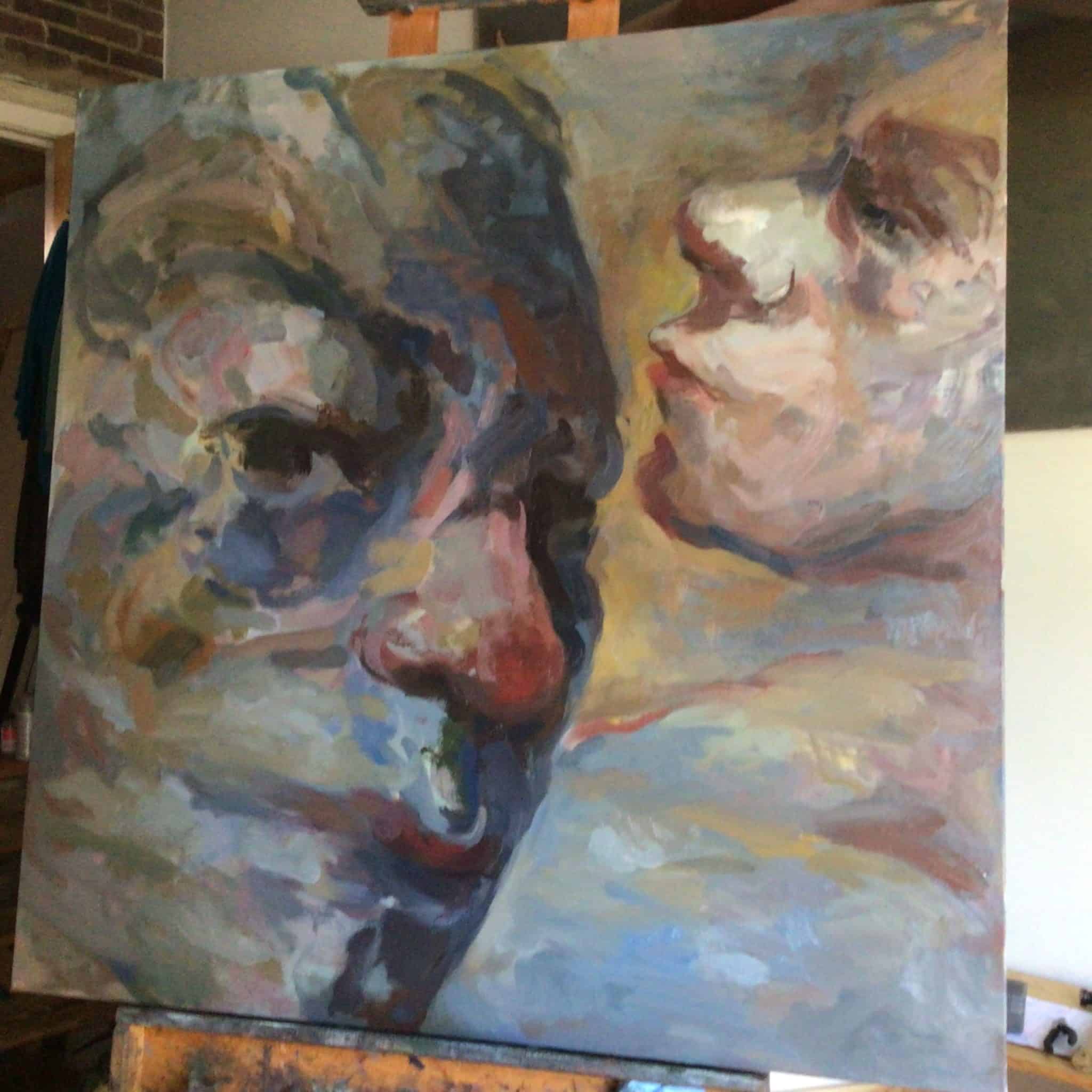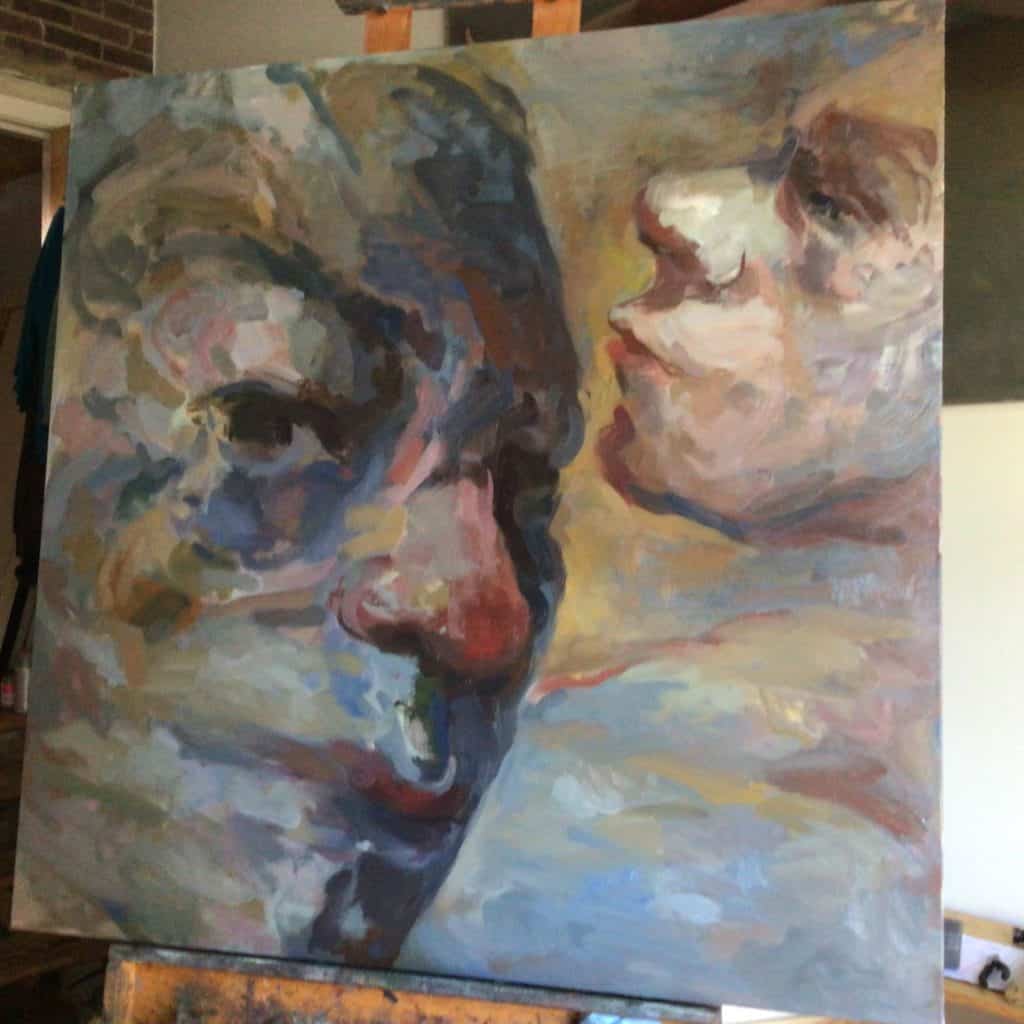 What are you currently working on?
I continue to paint in the style of Headlands, my November 2021 show at The Art League. The images are getting further away from portrait and closer to an idea of the head in nature or space. Then the images come back closer to a portrait and the pendulum swings. I am also having a dialogue with a gallery in New York, which I'm excited about. 
What is something you have yet to achieve?
I don't think I have an answer to that question. I like the struggle. It's not a sense of achievement, it's just a way of living.
If you weren't making art, what would you be doing?
I don't know what I would do if I wasn't making art. After a car accident damaged my hand, I really thought about options. My hand healed, thank goodness because I didn't have a clear answer. I can't answer that question in the abstract.
What's next for you?
Next? More painting. A friend once asked, "What will you do when you retire?" Retire? I am a painter, I said, we keep painting. My second son is going off to college. No more kids in the house. That's what's next! I plan on pursuing a gallery in NYC. A few are interested. That will take time and I will have the time.